You can publish this article on your website as long as you provide a link back to this page.
This article was last updated on April 16, 2022
Why yes, we have spent a lot of time looking at pretty pics and oohing and aahing over all of the charming details from a few big-ticket celeb weddings these past few months. And, it's been a lot of fun.
But if you're actually planning your own nuptials, you might need something a little more concrete than a blissful shot of Justin and Jessica to start you down the road to the right fete for you (P.S. was anyone else holding out for a JT-and-Brit, denim-clad bash? Just us? Okay, fine.). And whether you're going for a full-on blowout or are thinking more along the lines of a low-key dinner post -a trip to City Hall, some elements remain constant. And, by that, we mean logistics.
So, we hit up Yifat Oren, the wedding planner behind so many of the spectacular affairs you've seen in the tabloids and glossies — Anne Hathaway, Natalie Portman, and Drew Barrymore, to name just a few — for her best advice for real-life brides-to-be. We're particularly taken by her reliance on the Japanese aesthetic of Wabi-sabi, the idea that beauty is meant to be imperfect. Certainly an inspiring way to look at a planning process that can easily send even the most zen woman on a spiraling OCD quest for perfection.
Oh, and the pics from her gorgeous bashes don't hurt either. Ahead, her top 10 tips (some practical, some a bit more fun, but all ultra-useful), plus a little dish picked up over years of celebrity-wedding planning. So, sit back, relax, and let your stress melt away — you're in the hands of a pro, now.

Step 1:
"Start a beautiful and inspiring notebook, journal, mood board, or Pinterest board. Whatever it is, start pouring your ideas into it, cutting and pasting everything that inspires you. And since organization is key, a good ol' three ring binder for all budgets, menus, proposals, and contracts will do you just right."
Photo: Courtesy of Yifat Oren & Associates

Step 2:
"Define the guest list early. Get going on this sooner than later. For the first draft, just gather all the names and perhaps emails in one location. Excel is a lifesaver to help keep you organized. Here's what you should plug in: how many guests are invited, how many replied, a column for guest names, gifts received, thank-you notes sent, who is invited to the rehearsal dinner, brunch, etc. This spreadsheet will keep your life sane. Well, semi-sane."
Photo: Courtesy of Sasha Gulish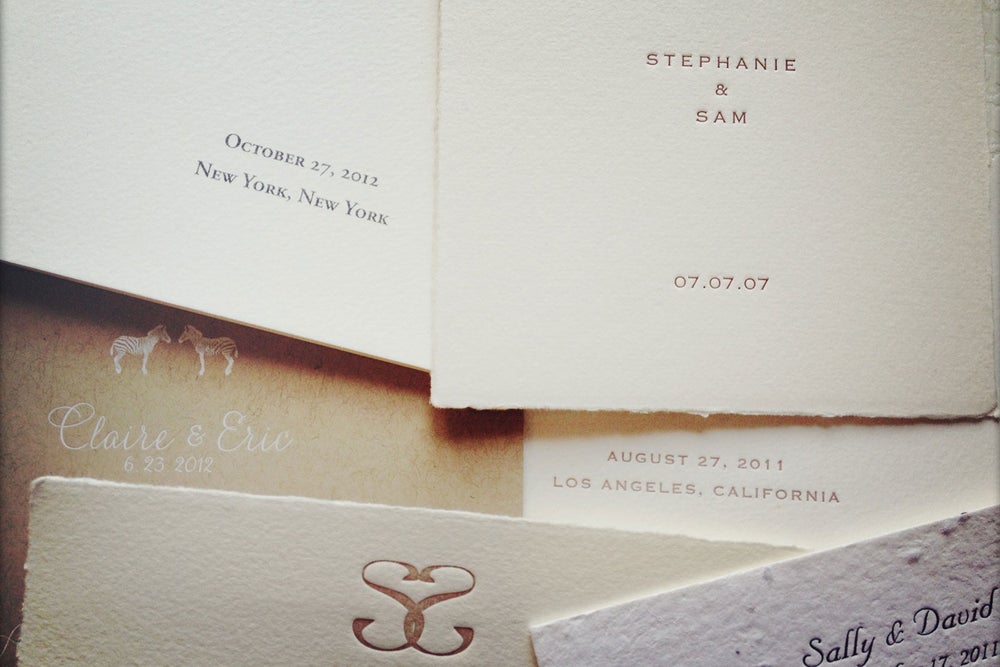 Step 3:
"Set a date. Figure out when you want to get married, and then make sure that works for all family members. Today, families are busy, so make sure no one is committed to travel or another event they must attend. And once you have a date, or preferably a couple of options for dates that may work, and a guest list, you can get going on your most important task…"
Photo: Courtesy of Yifat Oren & Associates

Step 4:
"Location, location, location. The Internet has made information far more accessible, but you have to know how to search. Blogs can be your best friend when you're looking to uncover a secret gem of a location."
Step 5:
"Set a desired and realistic budget — giving yourself enough wiggle room for those unexpected or sometimes forgotten costs like lighting (the most important element), rentals, lounge furniture, rush shipping charges on last-minute items, additional guests you didn't think were coming, etc. Remember: Wedding tabs can run high, so before you start committing to vendors, check the price tags. Working without a budget is like building a house without a blueprint."
Photo: Courtesy of Gia Canali

Step 6:
"Hold that purchase. Seriously, don't even think about buying that perfect dress you found without having a date or location chosen. Both of these can have tremendous impact on what the look and feel of the wedding is going to be, including the attire. Also, keep in mind that wedding gowns, like all fashion items, are seasonal. Something you see in the summer may not work for a winter wedding. On the other hand, I have designed an entire wedding with an amazing gown as my inspiration. So, if you fall madly in love with a gown and your besties approve, go for it (as long as you're willing to be flexible on the other stuff)!"
Photo: Courtesy of Jonas Peterson

Step 7:
"Create a timetable. It is never going to feel like there are enough hours in the day to get it all done (but you will!), so it's best to stay organized, focusing on one tedious task at a time. There are many timetable templates available online; just plug in your wedding date and a checklist/calendar will be created for you."
Step 8:
"Try, try, try to enjoy the process, not just the end result. I have seen it all and I can tell you, the couples who have fun planning together haveso much more fun at the wedding."
Photo: Courtesy of Jonas Peterson

Step 9:
"If you're not hiring a professional, be sure to have a buttoned-up schedule with all your vendors' duties outlined and a schedule of when everything is being delivered and then broken down. Be sure to send out the schedule to ALL of your vendors and create a master contact sheet so the vendors can contact each other — that way, you're not the only point person on the wedding day. And if you have a resourceful and organized friend who can be the point person on the wedding day, even better."
Photo: Courtesy of Lara Porzak

Step 10:
"It sounds trite, and it may be, but don't sweat the small stuff. Whether the right flowers didn't arrive in time, or your mother-in-law is making you a bit bananas, take the high road. Remember that the wedding is one day; your marriage is meant to last a lifetime, so the planning process makes a good practice run."
Photo: Courtesy of Gia Canali

The woman behind the weddings!
Photo: Courtesy of Yifat Oren
Click HERE to read more from Refinery29.