You can publish this article on your website as long as you provide a link back to this page.
This article was last updated on May 19, 2022
Every one of you knows that one couple who's never seen just by their lonely two-some; whether they started the conga line during happy hour drinks or are hosting an impromptu 20-person dinner party, this couple is constantly making sure their loved ones are all just as entertained as they are.
For the social-butterfly pair, a great gift normally means something that you'll also be enjoying, too, at some point in the near future. From glorious speakers to blast your favorite playlists at their next shindig to gilded party games that'll change the way you all play King's Cup, here are the couples' gifts that'll bring them as many happy moments as they've brought you.

DVF Ping Pong Set, $95, available at DVF.

Anthropologie Overdyed Terai Folding Chair, $198, available at Anthropologie.

Uncommon Goods Agate Cheese Sets, $78, available at Uncommon Goods.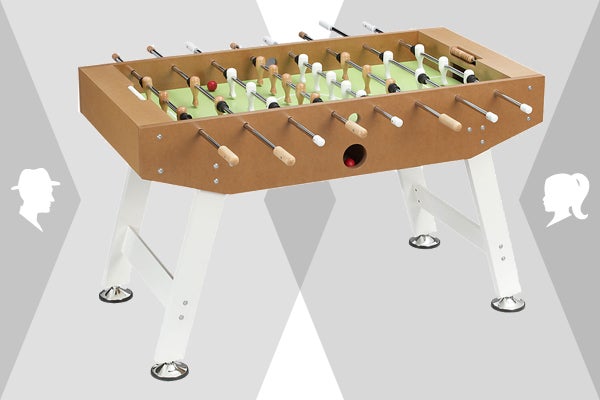 CB2 Foos Table, $599, available at CB2.

Joey Roth Ceramic Speakers, $495, available at Joey Roth.

Reed Wilson Design Doormat "Happy Holladays," $50, available at Vespoe.

Only true social butterflies could make watching TVa must-attend event. But, if you're going to have a viewing party that matches your bon vivant reputation, you need to represent yourself with the screen of the season. Exquisitely designed with a perfect picture, the new Samsung Smart TV has a built-in-camera for chatting, content-finding options and apps, gesture control, and more high-tech goodies than you can count, all meant to have your guests chatting about it all night.

Samsung Smart TV, for prices and information, visit Samsung.

Idea Gold Playing Cards, $15, available at The Future Perfect.

Leopold Brothers Gin, $36, available at Cask.

Polaroid 14-Megapixel Instant Print Digital Camera, $249.99, available at Polaroid.

Sagaform Champagne Glasses, $43.95, available at Burke Decor.

Crosley Tech Record Player, $69.99, available at Brookstone.

Futagami Bottle Opener, $55, available at Muhs.
Click HERE to read more from Refinery29.