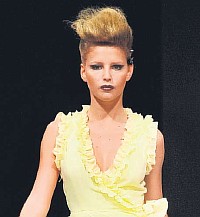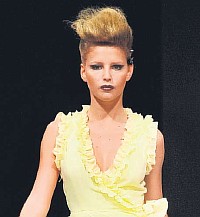 When some models walk the ramp, they are not just strutting the stuff of some designers, they are walking the extra mile for the cause of environmental regeneration
Ethical fashion or sustainable fashion views fashion as part of an organic whole and preserving the social and environmental balance forms the core of its creed. As a first step, many concerned designers and textile manufacturers are switching over to vegetable dyes instead of chemical ones. Anuradha Iyer, zonal manager of a leading brand, tells us, "We manufacture a lot of jewellery using materials as diverse as jute, ceramic, wood, thread, papier-mâché, terracotta, or silver. Even the clothes are dyed in vegetable dye."
One of the main concerns of the fashion industry is the untrammelled use of leather and fur which leads to the massive killing of animals ultimately leading to the destruction of the ecological balance. This is unwarranted, says Rahul Patil, a PETA member, especially when there are plenty of alternatives available. And, fortunately, many in the fashion tribe are switching over. "Fashion does not justify the killing of animals for the production of leather and fur. There are many alternatives like faux-leather and faux-fur that do not involve harming animals, are cheaper and more lucrative, and look as good as real. Many in the fashion community are waking up to the cause and adopting compatible alternatives to real leather and fur," says Rahul.
Ethical fashion also involves adopting techniques like Smart Technology that can create eco-friendly, recyclable clones of fibres. Other materials like jute and organic cotton are also becoming more popular. And, for all you know, you might just wear clothes created from pineapple or soy-bean fibre! Surya Tikekar, a designer, tells us, "Designers nowadays have become more conscious of the need to introduce options that are feasible in terms of production that does not harm the environment as well as suits the purpose of fashion. Fair trade practices that ensure the wellbeing of the farmers who grow raw materials like cotton are followed to ensure fair wage and safe working conditions. Many designers are also constantly experimenting to develop eco-friendly fabrics like organic cotton which do not pollute the environment and damage the health of the farmers."
It doesn't stop at that. The cause for environmentally-sustainable fashion has led to the formation of forums for ethical fashion which invite alliances from designers, retailers, manufacturers, fair trade producers, consumers and the like. Prachi Bhagat, a garment-manufacturer, says, "I ensure we comply with the standards of fair trade practices and also try to involve the use of as many eco-friendly fabrics as possible. Eco-friendly materials are hypo-allergenic and give your skin more room to breathe." Naturally, ethical fashion offers a fresh breath of hope for the preservation of the environment.