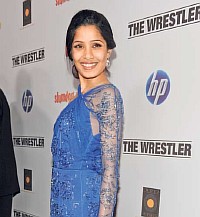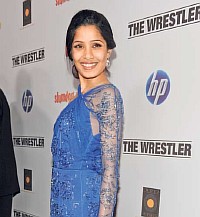 Besides the eight Oscars, Slumdog Millionaire also gave us a fashion icon.
The rise of Freida Pinto from the character of Latika in the film to her making it to the ten best dressed women in the world, (rated by a leading fashion magazine, surpassing even Anne Hathaway and Drew Barrymore), is definitely a high point.
Come March, Freida will also feature on the cover of an international fashion publication. Right from her Zac Posen attire at the director's guild of America awards to the stunning pink Oscar De La Renta gown at the BAFTAs, Freida has become the flavour of the season.
While her Oscar outfit – a sapphire coloured gown by John Galliano – received compliments as being, "absolute luxe", her dressing has also come under some flak. While back home, some designers have criticised her overtly Westernised apparel as lacking in traditional appeal, others sum it up as a 'good show' by someone who walked the Red Carpet for the first time. We ask some fashion gurus for their take on the sexy actress.
On how she looked on D-day
Rocky S: She was completely mesmerising. The outfit exuded a captivating blend of Hollywood glamour and Bollywood ebullience. Added to that, the blue tint of the gown complemented her honey-toned complexion.
Neeta Lulla: The dress was too over-the-top for her age and added years to her. In fact, she looked better at the other award ceremonies.
Sabyasachi Muhkerjee: For a film like Slumdog Millionaire, that is rooted in India, her choice of a western gown was totally wrong and her hairstyle was a complete mess too. The blue colour did nothing for her complexion either.
Nayanika Chatterjee: Freida wasn't as spectacular as I expected her to look for an Oscar's night. Her outfit, which was ill-fitted, was just about average and made her look short.
Should she have gone the Indian way?
Rocky S: Not at all. The Oscars are an international event. Everybody has to follow the international norm and Freida is no exception. Full marks to her stylist who absolutely justified her look!
Neeta Lulla: It is a personal choice and unfair to criticise her for not wearing Indian clothes.
Sabyasachi Mukherjee: When you are representing your country at the Oscars, patriotism demands that you project your culture. She should have worn a traditional saree.
Nayanika Chatterjee: Considering it was her first stint on the Red Carpet, she could have been more comfortable in a saree and carried it off better than the gown she wore.
The ideal Oscar dress for Freida
Rocky S: I would give her a strapless gown fitted at the top with flowing drapes at the bottom. I would give her jewel colour tones, like emerald-green, amethyst-purple or ruby-red with a hint of Indian embroidery. She would look sophisticated in hair pushed back neatly in a high bun.
Neeta Lulla: A soft-looking saree in neutral shades of old rose, beige or light grey, with a contemporary touch and varied crystal work, or a peach coloured sheath gown, would be ideal.
Sabyasachi Mukherjee: A 1920's inspired shimmery saree in ivory, teamed with an old fashioned blouse and minimal period jewellery with white mogras in a simply tied plait, would have made her stand apart.
Nayanika Chatterjee: With her kind of bone structure and classic face, I would have liked her to wear a closely-fitted fusion gown in a neutral colour, which would have added length to her body.