Fashion shows are more diverse than ever before. There are bloggers from Beijing in their 20s sitting 10 feet away from VPs of sales from Sweden in their 50s. There are women who own boutiques in Dubai and Qatar next to women who own boutiques in Dallas and Queens. There are thin women, short women, differently abled women, and non-women, too. There are women who participate in fashion by being able to afford to buy lots of it and women who participate by writing about it in-between their part-time jobs. There are women who are really well dressed and women who couldn't care less about their outfits. Fashion is definitely an exclusive, insular industry, but no one can doubt that those who participate in it come from all corners of the world and from all experiences.

But, of course, that's just the audience. Once the house lights go down and the music starts, no one can expect that a designer's collection can be as multifaceted as an audience of 500 people. It cannot appeal to all tastes, price points, and preferences represented in its audience — and it shouldn't have to. Great designers have a point of view. They're expected to attract customers, not chase them. But there are certain designers who so blindly ignore their customers and fans that "having an aesthetic" becomes indistinguishable from "being racist."

They're forward-thinking, incredibly talented designers; like Demna Gvasalia from Vetements and Balenciaga, who, in the five collections he's designed and 206 models he's employed in his runway shows, has only used one model of color. They're avant-garde, established artists; like Rei Kawakubo, who hasn't used a Black model on the runway in over 10 years. There are more of them than you think who could possibly get away with exclusively casting light-skinned, Caucasian-appearing models in their shows. When quickly clicking through every single look from every single runway show from Paris, Milan, London, and New York this season, I found 10 designer brands who didn't seem to have cast a single model of color: David Koma, Anrealage, Ann Demeulemeester, Noir Kei Ninomiya, Undercover, Junya Watanabe, Veronique Branquinho, Balenciaga, Vetements, and Commes des Garçons.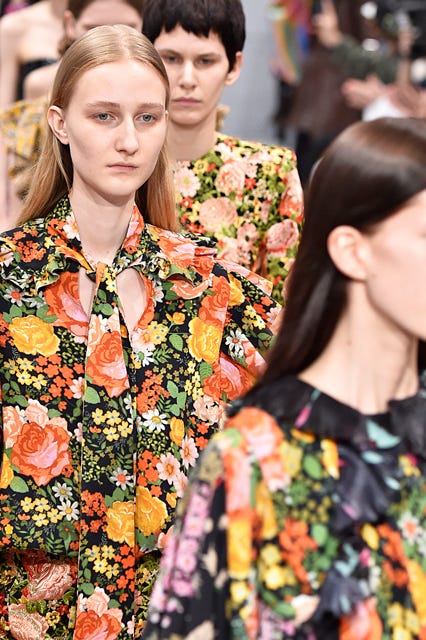 But…how? How still? For answers, I turned to prominent casting director James Scully, who's worked in the industry for decades in the days when it was typical to see a whites-only lineup.

"10 years ago, no one would have said anything, but it's different now." Scully has extremely vocal about fashion's diversity problem. He recently found himself entangled in a back-and-forth in the comments section for Jason Campbell's recent article on Business of Fashion, "

Whites-Only Policy at Vestments and Balenciaga

." Commenters defended Gvasalia's vision, but Scully wasn't moved: "'They're just doing their world,' is the argument," he told me, "But if [Gvasalia] stood in the stores that sell Vetement and saw the people that buy his clothes, most of them are not white. I eat lunch three times a week at Dover Street Market and I like to watch all the kids who come in, are so excited, and freak out if they've missed a delivery. But half of those kids are Black, Hispanic, and Asian. Is their world not his world?" (And to address the excuse that creative directors don't have the time to cast models for their own shows, Scully confirms that they're intimately involved: "The stylist and casting director may have a lot of power, but at the end of the day, it's the designer's decision [of who to cast]. No one else is making that decision.")

What makes these homogenous model lineups even more ironic is that oftentimes — and in Gvasalia's case, in particular — fashion is inspired by the style and culture of non-white minority groups. Gvasalia told New York Magazine critic

Cathy Horyn

that he was particularly inspired by Guerrisol, the Parisian thrift store chain at the racially diverse Barbès — Rochechouart Métro stop. "I see the people trying things. They make looks. I find this really fascinating."

In the collection, Gvasalia remade cheaply printed floral fabrics in high-end Parisian mills, and recut sport-utility parkas — Gvasalia told Vogue critic Sarah Mower they reminded him of

Helly Hensen

jackets — to drape like opera coats. Luxury designers are literally knocking off budget, street clothing. They're taking the uniform of predominantly non-white, non-affluent people and remaking it for white, affluent customers.

Says Scully, "As a person who was looking forward to the biggest moment in Paris, it was just disappointing that [Gvasalia] didn't pay attention to the people who support him and buy his clothes — who save up their money to go and spend $1,000 on a twisted sweatshirt. The message he's sending is, 'Thanks, but I don't need you.'"

It might be unfair to place so much attention on Gvasalia when there are eight other designer brands who also seem to have a de facto whites-only policy. It also seems unfair, if you consider that a designer — like in the case of some Japanese designers — may want carbon-copies of their models as an aesthetic statement. When you're covering your models' faces, dressing them in unwearable clothes, and putting on a show that's more of an art performance than a seller's showcase, it's understandable that you would want a robot on the runway, not a human. But for brands who champion diversity in other forms, like through age (Undercover), gender, size, and height (Vetements), it's a sinister statement to ignore one of the most consequential forms of diversity.

In a time when the color of your skin is undeniably a global political issue — when there are daily demonstrations, protests, acts of violence, and infractions of justice that are race-based — it takes an incredibly sheltered person with incredibly large blinders on to only want to create things that speak to white people.

Click

HERE

to read more from refinery29.com