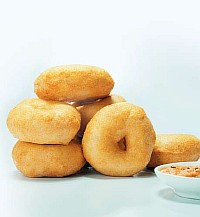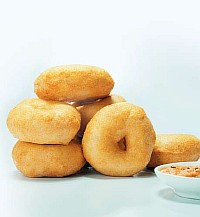 What: Dosa Calling, Where: Medavakam Tank Road, 2nd Street, Kilpauk
An exclusive outlet for dosas? Do we really need something of that sort? It was this question that popped inside our heads, as we headed to the newly-opened restaurant Dosa Calling. The swanky interiors did nothing to dissuade us from feeling that it was going to be something terribly miscalculated.
But a quick run through of the menu had us suddenly breathing easy. For, it was not only comprehensive, but there was everything from the good old paper roast to oothappam, adai, pesarattu, appam and even fusion dosa. Another surprise was that the place had a variety of batters like ragee, cholam, kambu and wheat. What's more each variety had at least three types of dosas under them. Whew! Who thought that there was so much variety in a dosa?
We ordered the Mysore masala dosa and the vegetable adai. As we waited, we decided to pass time by giving the menu a closer look. And, it certainly seemed to be done for that very purpose with quotes like "I'm not saying my wife's a bad cook; but, she uses the smoke alarm as a timer" as footers.
Mysore masala dosa arrives first, with sambar and three choices of chutney that bring the Indian flag to our mind — tomato (saffron), coconut (white) and mint (green). All our initial doubts seem unfounded (and uncalled for) as we take our first bite. It's perfectly crispy, spicy and yummy as a Mysore masala dosa should be. The vegetable adai arrives as we finish and though it doesn't match the tang of our previous order (it's slightly sour), it is nevertheless fulfiling.
Emboldened, we decide to try something daring and zero in on oriental masala dosa (which is made with a mix of cauliflower, tomato, onion and spices) and nei pesarattu. While it isn't as crisp as we would have liked it to be, we find it delectable. The nei pesarattu was equally good.
Then came our major disappointment — the ulundhu vadai. Sure, it tastes very much like an ulundhu vadai, but wasn't as soft or crisp. Can a meal ever be complete for a south Indian foodie without buttermilk? We decided to order the invitingly described lassi but sadly, they had run out of stock! Now, what is it they said about disappointment never coming alone?