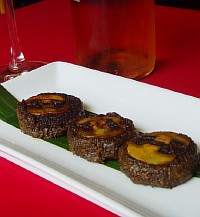 This article was last updated on April 16, 2022

After shallowing fry on a griddle turning once, the dish is to be served hot…
Ingredients
Button Mushrooms – 2 Kilograms
Ghee – 40 Grams
Ginger Garlic Paste* – 2 Table spoons
Deghi Mirch Powder – 2 Tea spoons
Turmeric Powder – 1 Tea spoon
Small Cardamom Powder – 2 Tea spoons
Mace Powder – ½ Tea spoon
Nutmeg Powder – ½ Tea spoon
Garam Masala Powder – 1 Tea spoon
Brown Onion Paste* – 3 Table spoons
Roasted Channa Dal Powder- 4 Table spoons
Salt – To Taste
Method
1. Mince mushrooms.
2. In thick bottom pan heat ghee, add ginger garlic paste and sauté till golden brown.
3. Add all the powder spices, mushroom mince and cook till the mixture is of thick paste consistency.
4. Add the remaining ingredients and cool the mixture.
5. Make 2.5 cm patties, shallow fry on a griddle turning once and serve hot.
* Use equal quantities of ginger, garlic and some oil to make the paste.
* Fry sliced red onion till golden brown & crisp. Blend with yoghurt to make a thick and smooth paste.
 
You can publish this article on your website as long as you provide a link back to this page.