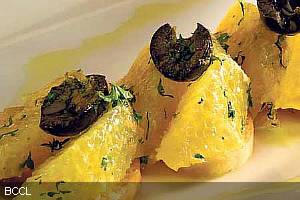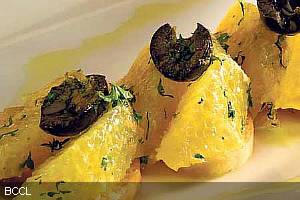 Caperberry has, since its opening a couple of months ago, won over diners with its modern European food, with elements of molecular gastronomy adding a dash of novelty to the experience.
Now, the tapas lounge at the restaurant has been unveiled, with its bar fully stocked, its snack menu in place and a host of buzzing events lined up.
It's a small, intimate space, with mellow lighting. The bar counter is a good place to perch yourself. There's comfy seating and also high tables, so you can take your pick.
While the whims and vagaries of Karnataka's liquour-dispensing system had stemmed supplies for a while, the Caperberry lounge now showcases a list of some 80-plus wine labels, some carefully chosen single malts and other premium liquours, including sherry to emphasise the Spanish flavours of the restaurant.
The list of cocktails is impressive, too. I had here an excellent Cyro, a vodka margarita with mango juice where liquid nitrogen does a bit of drama in your glass. So it's super-chilled and totally cool. They also make the perfect sangria, though a little less fruit in the glass would help. What I didn't really take to though was the White Chocolate Martini, tagged as a signature cocktail here with white chocolate and truffle oil. The exotic ingredients don't really translate into a great combination of flavours.
The wine list includes a Taittinger Brut, priced at Rs 6,500 a bottle, Spanish whites like De Casta Granacha Rosade from Torres (Rs 3,000) and reds like the Monastrell from Pedrera and picks from Portugal, France, Italy, Chile, South Africa, Australia and California.
There's a pleasing selection of tapas, which is a refreshing change from the bar snacks at most places. Try the citrus crostini, the green apple and feta wrapped in lettuce or the filo parcels of spinach, pine nuts and raisins. The non-vegetarian selection includes minted lamb chops, pancetta-wrapped prawns and chargrilled chicken with sherry. And if you want to round off your evening of drinking with something more substantial, then perhaps the mushroom paella, which is very well done here.
Right now, the tapas lounge at Caperberry is somewhere for quiet drinks, but a series of events lined up are designed to pump energy into the place. Look out for ladies nights, retro and jazz evenings and celebrity bartending events.
An evening out for two with a couple of cocktails each and some tapas should cost around Rs 3,000, which is among the better deals you'll get in these parts.