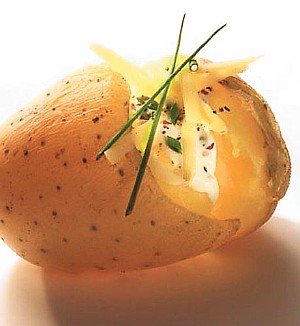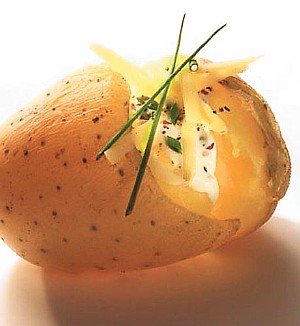 There is something smart about a jacket potato. Made perfectly, this humble root has the potential to satisfy anyone! Many insist that there is only one type of potato that gives us the ideal 'jacket', but believe me, any potato will do.
The flesh can be transformed into a magical filling thanks to other ingredients like butter and cream! For those of us who do not have the heart to entertain this dish, there is a healthier option as well. Replace the butter with a generous drizzle of olive oil and omit the cream or replace it with some milk or yogurt – simple.
For the perfect jacket, you need to prick the potato skin all over and bake it in an oven for 1-1½ hours, depending on the size, until the skin is crisp and the flesh is cooked through. When it cools down a bit, make two incisions horizontally, scoop out the flesh, season with butter, salt, pepper and cream till you reach the desired consistency.
This high fibre, energy boosting root has endless possibilities – here are a few healthy toppings and fillings that you can try:
Sweet chilli prawns : Lightly sauté one tsp grated ginger and garlic in two tsp olive oil. Then add 100g prawns, season with salt and pepper, then add three tblsps sweet chilli sauce and one tblsp finely sliced green onions. Stir fry the prawns until they are cooked. When done, sprinkle with one tsp sesame seeds, spoon into the jacket potato and serve.
Oriental sticky chicken: Heat two tsp olive oil and stir fry 150g chicken strips with 1/2 tsp Chinese five- spice powder until the chicken is browned. Add 50g diced green pepper and a small handful of bean sprouts and cashew nuts, salt and pepper. Sauté till the chicken is cooked through. Then stir in one tbsp soy sauce and two tsp clear honey, adjust seasoning and spoon onto the potato and serve.
Greek topping: Roughly chop two tomatoes and one small red onion. Add 10 whole black olives, 50g crumbled feta, one tsp fresh chopped mint, salt and pepper. Drizzle with olive oil and balsamic vinegar and mix well. Spoon onto the potato.
Instant fish pie: To the warm seasoned potato flesh add 50g sliced smoked salmon, salt and pepper, one finely chopped red onion, one tsp capers, a squeeze of lemon juice and a dash of Tabasco. Spoon the warm mixture into the crisp jackets and serve immediately.