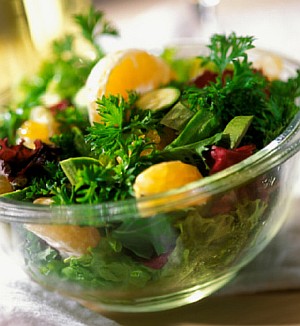 This article was last updated on April 16, 2022
Canada:

Oye! Times readers Get FREE $30 to spend on Amazon, Walmart…
USA:

Oye! Times readers Get FREE $30 to spend on Amazon, Walmart…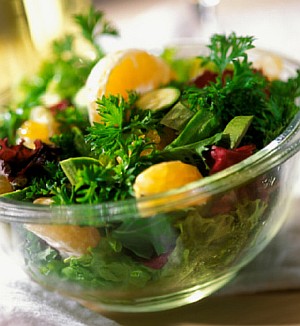 Summer means salad as one hardly has an appetite to eat, thanks to the scorching heat and the exhaustion out of it.
Here is an assortment of healthy filling salads which when you read looks so yummy that it will coerce you to hit the kitchen and whip one for the family. Bon Appetit!
Crab Meat Salad
Ingredients
Romaine lettuce – 25 gm
Curly endive lettuce – 25 gm
Lollo rosso lettuce – 25 gm
Cubes of red, yellow & green capsicum – 20 gm
Crab meat – 35 gm
Spring onion greens – 2 tsp
Lemon juice – 5 ml
Olive oil – 10 ml
Salt – To taste
Pepper powder – To taste
Method
Roughly tear the lettuce leaves and keep chilled.
Shred the spring onion greens on a slant.
Cook the crab meat by blanching in salted water for 1-2 minutes. Once cooked, keep chilled.
To make the dressing, blend together the lemon juice, olive oil, salt & pepper.
Mix all the ingredients except the crabmeat together & drizzle half the dressing.
In a salad plate, place the dressed ingredients loosely in a mound.
Dress the chilled cooked crab meat with the remaining dressing and top up on the salad.
Garnish with some shredded spring onion greens.
Glass Noodle Salad
Ingredients
Glass noodles, soaked – 80 gm
Carrot, peeled & julienned – 30 gm
Dried shiitake mushroom, soaked – 20 gm
Fresh basil leaves – 5-6 nos
Fresh red chilli -2 nos
Lemon juice- 5 ml
Sweet chilli sauce (proprietary) -15 ml
Method
Once soft, drain the glass noodles & keep in a bowl
Squeeze off excess water from the soaked shiitake mushrooms, trim off the stalk & shred the mushroom cap.
Cut the chilli on a slant in thin strips.
Add the mushroom & chilli along with the other ingredients to the drained noodles.
Toss well so as to combine all ingredients.
Place on a salad plate in a mound
Garnish with a few extra basil leaves.
Greek Salad
Ingredients
Feta cheese, cubed – 30 gm
Red, yellow & green bell peppers, cubed -20 gm
Onion, peeled & cubed -15 gm
Cucumber, peeled & cubed – 20 gm
Iceberg lettuce, rough shreds – 20 gm
Dry oregano – a pinch
Chopped parsley – ½ tsp
Cherry tomato – 20 gm
Kalamata olives – 20 gm
Lemon juice-5 gm
Olive oil -10 ml
Salt – to taste
Ground pepper – to taste
Method
Place the lettuce in a salad plate.
Prepare the dressing by whisking together the olive oil, lemon juice, salt & pepper
Dress the peppers, onion, cucumber & cherry tomato together.
Place on top of the lettuce.
Top up with the feta cheese & kalamata olives.
Finish by drizzling with chopped parsley & dry oregano.
You can publish this article on your website as long as you provide a link back to this page.