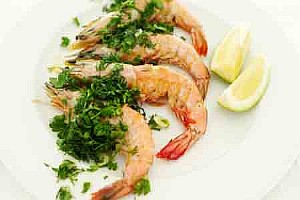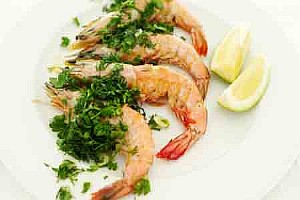 Food writers are frequently plied with fare to sample — home-made brownies, low-fat ice-creams, sun-dried tomatoes, various canned foods and the like.
The other day, I had a most unusual consignment, a zip-lock pouch stuffed with frozen jumbo prawns. They had been farmed not far from Chennai in a hi-tech facility, quick-frozen and despatched in pristine condition.
Such good ingredients needed to be treated with respect, even reverence. What would I do with them? Turn them into a Kerala-style curry perhaps, with freshly roasted masala. Or, simply stir-fry with blackbean sauce and a scattering of spring onions. What I eventually settled for was a deceptively simple treatment. Gambas al ajillo, or shrimp in garlic, is a Spanish classic. The minimal ingredients and the simple cooking technique gives you no inkling of the wonderful flavours this dish exudes. Every time I make it, it takes me back to the sunny tapas bars of Barcelona.
The key ingredient is, of course, the prawn. Use only the freshest. If you leave the shells on, it adds much more flavour. But if you find it fiddly to eat prawns with their shells on, then shell and devein, but keep the tails intact. Clean, wash, pat dry and set aside.
For 500 gm of prawns you will need half a cup of good olive oil. The seasonings are chopped garlic and chilli flakes. I like my gambas al ajillo, very garlicky and chilli hot, but you can use as much or as little as you like. A handful of chopped parsley is also required.
Half a cup of sherry or cognac greatly enhances the dish as well. So get that organised alongside. And to season, use sea salt. I find that a gourmet salt like Maldon does wonders for this classic. But coarse sea salt also will do.
You need a loaf of crusty bread or a baguette to complete the meal.
When you are ready to eat, put a heavy bottomed pan on the fire, pour in the olive oil and when it heats up, add the garlic and the chilli flakes. These should flavour the oil, but be careful not to let the stuff burn. Put in the prawns, stir about till they turn pink, pour in the alcohol, allow it to reduce, throw in the parsley and serve. Use the bread to mop up the pan juices which are delicious.
Drink beer alongside, or a large pitcher of sangria, and imagine you are in Spain.