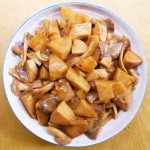 You can publish this article on your website as long as you provide a link back to this page.
This article was last updated on April 16, 2022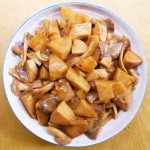 Bamboo Shoot with Mushrooms
Serves 4 to 6
Ingredients:
1/4 cup peanut oil
12 oz. canned bamboo shoots, drained and sliced
12 Chinese dried mushrooms, soaked in cold water for 30 minutes, drained and chopped
2 tbsps. Rice wine or dry sherry
4 tbsps. Soy sauce
1 tbs. sugar
¼ tsp MSG (optional)
3/8 cup water
Directions:
Heat the wok over moderately high heat for 30 seconds.
Add the oil and swirl it around the wok.
Add the bamboo shoot and mushrooms and stir fry for 5 minutes.
Stir in the remaining ingredients and reduce heat to low.
Cover the wok and simmer for 5 minutes.
Serve at once.