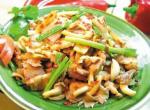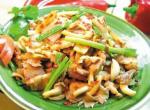 Spicy Pork Stir Fry
Serves 4
Ingredients:
1 lb. boneless pork loin
3 tbsps. soy sauce
3 tbsps. water
1 tbsp. cornstarch
1 tsp. vegetable oil
1 tsp. chili powder
1/4 tsp. ground cumin
2 cups bias-sliced Chinese cabbage
1 cup sliced carrots
1 small red bell pepper, cut into 3" pieces
1/2 cup walnut pieces
Directions:
Partially freeze pork. Thinly slice across the grain into bite-size strips. Place pork in shallow baking dish or heavy plastic bag.
For marinade, combine soy sauce, water and cornstarch; pour HALF the marinade over pork. Marinate in refrigerator 30 minutes; reserve the remaining marinade.
Preheat wok over high heat; add vegetable oil, chili powder and cumin. Stir-fry HALF the pork until browned; remove. (Add more oil to pan, if necessary.) Stir-fry the remaining pork; remove.
Add Chinese cabbage, carrots and red pepper to wok; stir-fry 2 minutes or until crisp-tender.
Add pork, walnuts and the reserved marinade; stir-fry 1-2 minutes or until heated through.