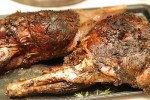 You can publish this article on your website as long as you provide a link back to this page.
This article was last updated on April 16, 2022

Roast Leg of Lamb
Ingredients:
5 to 6 lb. bone-in center cut leg of lamb
2 cloves garlic, slivered
2 Tblsp. chopped fresh rosemary
1/3 cup Dijon mustard
2 Tblsp. olive oil
2 cloves garlic, finely minced
Salt and pepper
Directions:
Step One: Prepare lamb
1• If your butcher hasn't already done so, trim almost all the fat from the top of the roast. Be sure to removed the white or silvery membrane, called the fell. With a very sharp paring knife make about 10 slits all over the roast, inserting a sliver of garlic and a little rosemary in each.
2•
Step Two: Marinate the roast
1• In a small bowl, whisk together the mustard, 2 cloves of minced garlic, olive oil, rosemary, and a few grinds of black pepper. Spread this over the roast, covering all sides.
2• Place in a non-reactive dish and allow to marinate at least four hours and up to 24 hours. If holding more than four hours, refrigerate, but allow the roast to return to room temperature before proceeding. A roast this size will take about 3 to 4 hours to come to room temperature if it is cold.
Step Three: Roasting the lamb
1• Preheat oven to 450. Place the room temperature roast in an uncovered roasting pan. Roast for 10 minutes.
2• Turn temperature down to 350 and continue roasting undisturbed to an internal temperature of 140 (for medium rare). This should take an additional 60 to 70 minutes.
3• If you like your meat less pink, wait for an internal temperature of 150. Do not overcook or the meat will be dry and tough. Let rest for five minutes. Carve and serve.