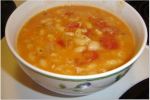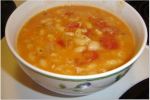 Pasta and Fagiola Soup
Ingredients:
4 tablespoons olive oil
2 garlic cloves, minced
1 (16-ounce) can Italian plum tomatoes, drained, chopped
2 tablespoons minced fresh parsley
1/2 teaspoon dried basil, crumbled
1/4 teaspoon dried oregano, crumbled
1 (15-ounce) can cannellini beans, rinsed, drained
Salt and pepper
8 ounces elbow macaroni, freshly cooked
Freshly grated Parmesan cheese
Directions:
1 • Heat 3 tablespoons oil in heavy large skillet over medium heat. Add garlic and sauté until brown, about 2 minutes.
2 • Stir in tomatoes and cook 5 minutes.
3 • Add parsley, basil and oregano and simmer until tomatoes soften, stirring occasionally and breaking up tomatoes with back of spoon, about 15 minutes.
4 • Add beans and cook until heated through, about 5 minutes.
5 • Season with salt and pepper. Place pasta in bowl. Toss with remaining 1 tablespoon oil. Pour sauce over and toss thoroughly.
6 • Serve, passing Parmesan separately.
Serves 2 to 4 people.