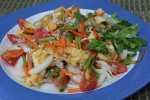 You can publish this article on your website as long as you provide a link back to this page.
This article was last updated on April 16, 2022

Celery Salad
Ingredients:
1 bunch celery
Salad dressing:
Pinch of salt
2 tbsps soy sauce
1 tbsp sugar
1 tbsps sesame oil
Directions:
Discard the root and leaves of the celery and cut into small diamond-shaped pieces by rolling each stalk half a turn every time you make a diagonal cut through.
Blanch the celery in boiling water for 1 minute. Drain and place on a plate. Mix the salad dressing ingredients together then pour over the celery. Chill before serving.