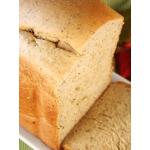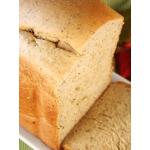 Cheese Herb Bread
Ingredients:
2 cups warm water (110 degrees F/45 degrees C)
2 tablespoons margarine, softened
1 1/2 tablespoons dried oregano
2 tablespoons white sugar
4 1/2 teaspoons active dry yeast
1/2 cup grated Parmesan cheese
4 1/2 cups all-purpose flour
2 teaspoons salt
1 tablespoon grated Parmesan cheese
Directions:
1• Sprinkle yeast over water in large bowl. Let stand a few minutes, then stir and dissolve yeast. Add sugar, salt, margarine, 1/2 cup Parmesan cheese, oregano and 3 cups of the flour. Beat at slow speed for 2 minutes. Beat in rest of flour; cover the bowl with a sheet of wax paper and a kitchen towel. Let rise in a warm place 45 minutes, or until doubled in volume.
2• Preheat oven to 350 degrees F (175 degrees C). Lightly grease one round, 2-quart casserole. Set aside.
3• Stir batter down for 1/2 a minute. Turn batter into casserole. Sprinkle with the remaining 1 tablespoon Parmesan cheese.
4• Bake at 350 degrees F (175 degrees C) for 55 minutes. Makes one (1).