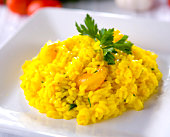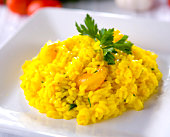 Risotto with Saffron
Ingredients:
• 15 oz. Italian Arborio rice
• 1 1/2 quarts broth (preferably meat broth)
• 1 onion (finely chopped)
• 2 oz. butter
• Saffron (about 1/4 teaspoon)
• salt & pepper
• Parmigiano Reggiano to taste
Directions:
1• Saute the chopped onion in two tablespoons butter.
2• Add the rice, stir and seize it.
3• Begin adding the broth (about a ladle at a time).
4• While always stirring with a wooden spoon continue to slowly add the broth as it becomes absorbed by the rice.
5• Add salt to taste; this may or may not be necessary depending on the taste of the broth. It may be that the broth itself contains the necessary amount of salt.
6• When the Risotto is almost cooked, add the Saffron (which has been diluted in a half cup of broth). Continue stirring until totally cooked.
7• Remove from heat and immediately add the remaining butter. Stir well. This is called "mantecare" the risotto, which is the key to achieving a smooth and creamy texture.
8• Serve immediately very hot.
9• The risotto can be sprinkled with the grated cheese, with more Parmigiano Reggiano grated cheese served on the side to be used according to taste.
Note: a perfect risotto should always be moist with a smooth texture.
Preperation time: 25 minutes. Cooking time for the risotto: 16 – 20 minutes.
Serves 4