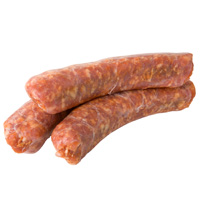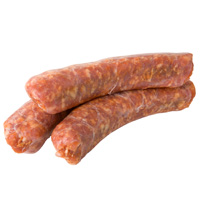 Pork Style Italian Sausage (Hot)
Ingredients:
• 20 lbs. trimmed pork butt4 lbs. cubed pork fat back
• 4 lbs. cubed pork fat back
• 8 Tblsp. salt
• 5 Tblsp. coarse ground black pepper
• 5 Tblsp. ground coriander
• 16 large garlic cloves, minced
• 8 Tblsp. crushed red pepper flakes
• 1 cup paprika
• 2 cups dry white wine
• Approximately 30 feet of casings
Directions:
1• Trim and discard all visible fat and gristle from pork.
2• Cube pork and fat back into pieces to fit your grinder – not more than one inch cubes. Grind together.
2• Combine salt, pepper, coriander, garlic, red pepper and paprika in bowl and mix well. Add to ground meat mixture along with wine and mix well with your hands trying not to compact the meat.
2• Cover and refrigerate overnight. Keep meat mixture as cold as possible for ease of stuffing. Refrigerate, loosely covered, for 12 hours before cooking or freezing.
Freezer life: 4 months.