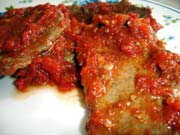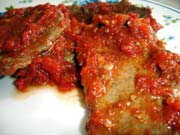 Pizzaiola Veal
Ingredients:
4 large veal cutlets (milk fed veal for tenderness)
salt and pepper
4 tablespoons olive oil
1 1/2 cup crushed tomatoes
1 garlic cloves crushed
4 basil leaves diced
2 tablespoons finely chopped parsley
Directions:
1• Heat frying pan with olive oil and add garlic. Cook until lightly browned
2• Add the tomatoes to pan and season
3• In another frying pan add olive oil lightly and fry veal for 2 minutes or when lightly browned.
4• Add cooked veal to seasoned tomato sauce and cook over low heat for 5 minutes.
5• Sprinkle the parsley over the top and serve at once.
Preparation Time: 10 minutes
Cooking Time: 10 minutes
Makes 4 servings