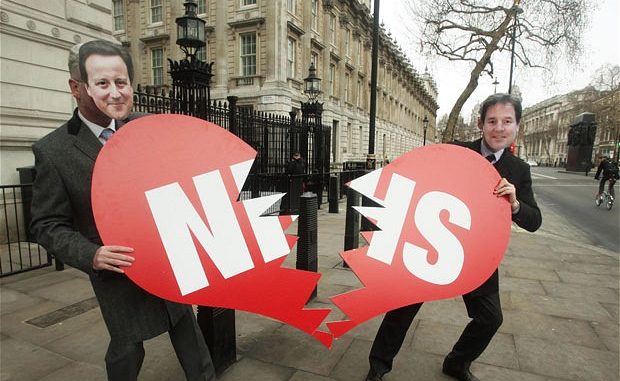 U.K. Deputy PM, Nick Clegg has backed additional changes to the Government's NHS reforms on Tuesday as an attempt has been made to avert Liberal Democrat anger over the shake-up.
As declared by the official spokesman of Mr. PM, David Cameroon that there would be no more "significant changes" to the Health and Social Care Bill. And just a few hours later, Mr. Clegg has settled to release a letter sent to Liberal Democrat MPs and peers calling for further moves to control private competition in the NHS.
It has come as the hospital doctors have decided to survey their 26,000 members on whether to call for the Bill to be scrapped.
According to the reports, a former chief executive of the health service, Lord Crisp, has dismissed the NHS reform Bill as being "unnecessary" and "a mess". Mr. Crisp used to run the NHS between the span of year 2000 and 2006, has stated that the Health and Social Care Bill was "confused and confusing" and "misses the point".
Opposition leader, Ed Miliband has also appealed to Liberal Democrat peers to cast votes against the Bill, which has currently become the most argumentative item in the legislative programme. Liberal Democrat peers have listed a series of proposed changes to the Bill.
The Health Secretary, Andrew Lansley, puts forward his views regarding the competition that it will definitely improve the quality of healthcare while abolishing primary care trusts will change bureaucracy. Whereas, Mr. Miliband appealed that the proposals would serve to "distract staff who will have to cope with huge organisational change and will put profits before patients and bring in creeping privatisation". But the Lib Dems' deputy leader, Simon Hughes, has refused of any such threat to the NHS by the proposals. Instead, he has stated before BBC, "You will see a Bill that will protect and defend the NHS."
Mr. Clegg is expecting to secure the changes to legislation before the Bill completes its passage through Parliament to ensure the smooth and successful implementation of the changes within the Bill.
Article viewed on Oye! Times at www.oyetimes.com.