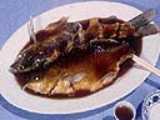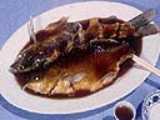 West Lake Fish In Vinegar
Ingredients:
One half-section piece of grass carp, approx. 2 lbs.
Seasoning:
A:
1 tsp salt
2 Tbsp lemon juice
B:
1 stalk scallion, finely shredded
1 shredded red chili
3 slices young ginger
dash of wine
C:
1 1/2tsp light soy sauce
1 1/2 Tbsp vinegar
Some rock sugar
1/2 tsp salt
2tsp wine
2 cups of chicken stock
some corn-starch water
D:
pinch of sesame oil and ground pepper.
Directions:
Wash fish, clean it inside out and blot dry, cut several shallow slits on the thickest part of fish, marinate with seasoning A for 10 mins.
Boil sufficient water to cover the fish, add in seasoning B, cover and turn to low heat, stew for 10mins, drain and set aside.
Heat seasoning C, turn off heat, mix well with seasoning D, pour it on top of the fish, sprinkle with shredded scallion and red chili to serve.