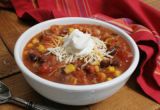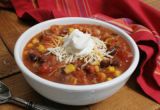 Taco Soup
Ingredients:
1 lb ground beef
3 (16 ounce) cans beans (kidney, navy and white beans are good together)
1 large onion , chopped
1 (16 ounce) can diced tomatoes
1 (4 1/2 ounce) can green chilies
1 (15 ounce) can tomato sauce
1 (16 ounce) can white corn (juice and all)
1 (1 1/4 ounce) package taco seasoning mix
1 (1 ounce) package ranch dressing mix
1/2 cup water
Preparation:
Cook beef and onions together, drain and rinse. In a large sauce pan, add beef mixture with other ingredients. Bring to boil. Reduce heat. Simmer for 15 minutes. When serving, sprinkle with shredded cheese. I like to slice flour tortillas and fry them in a little hot oil and drain, and put them on top. Corn chips are good too.