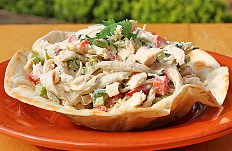 You can publish this article on your website as long as you provide a link back to this page.
This article was last updated on April 16, 2022

Jalapeno Chicken Salad
Ingredients:
2/3 cup mayonnaise
1/2 medium celery rib , finely chopped
1/2 small red onion , finely chopped
1/2 red bell pepper , seeded and finely chopped
1 tablespoon lime juice
3 cups cooked chicken , shredded
1/4 cup sliced pickled jalapeno chili , finely chopped
2 tablespoons fresh cilantro , chopped
salt and pepper
Preparation:
Mix mayonnaise and lime juice in a small bowl until combined. Toss chicken, celery, onion, bell pepper, cilantro, and jalapeños in a large bowl. Add the mayonnaise mixture and toss until evenly coated. Season with salt and pepper to taste. Serve or cover and refrigerate for up to 2 days.