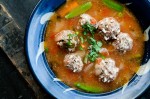 You can publish this article on your website as long as you provide a link back to this page.
This article was last updated on April 16, 2022

Albondigas Soup
Ingredients:
Meatballs
2 garlic cloves, minced
1/2 lb chorizo sausage, casing removed (not the fully cooked kind)
1 egg, beaten
1/2 lb lean ground beef
1/4 teaspoon pepper
1/2 carrot, minced
1/2 cup cooked rice
1/2 cup cilantro leaf, chopped
1/2 teaspoon salt
1 teaspoon ground cumin
Albondigas Soup
1 (16 ounce) can diced tomatoes (with nothing added)
6 cups chicken broth (I usually use nonfat and low sodium)
1/2 cup onion, chopped
3 stalks celery, cut in chunks
1 teaspoon oregano
1/2 teaspoon ground cumin
1/2 cup cilantro
1 large zucchini, sliced
pepper
salt
Preparation:
Make the meatballs first: Combine everything and mix thoroughly. Form meatballs and roll between your palms (Otherwise, meatballs will fall apart in the soup). You should make around 20 to 24 meatballs, set aside. Combine chicken broth, onion, celery, tomatoes and their liquid, cumin, oregano and cilantro leaves in a large pot. Bring to broil, and reduce heat and simmer for 10 minutes. Drop meatballs in the soup (Make sure the soup is slightly boiling, the meatballs need to be cooked quickly). Return to simmer and cook another 10 minutes. Add zucchini and cook 10 minutes. Season with salt and pepper, to taste.