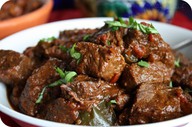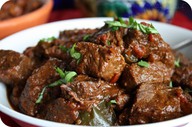 Carne Guisada
Ingredients:
2 -3 jalapeno peppers, seeded and minced
4 tablespoons flour
1 large onion, chopped
2 cloves garlic, chopped
2 tablespoons tomato paste
3 cups beef stock
2 tablespoons olive oil
4 teaspoons cumin
1 teaspoon chili powder
2 1/2 lbs chuck roast, trimmed of fat and cut in bite-sized pieces
Preparation:
Preheat oven to 350 degrees F. Toss meat pieces with flour, then brown quickly in oil in an ovenproof Dutch oven. Add onion, garlic, jalapeño, beef stock, tomato paste, cumin and chili powder; bring to a simmer on the stove. Cover Dutch oven and place in the preheated oven, baking for about 2 to 2-1/2 hours, until meat is extremely tender. Serve as is, or on rice, or folded into warm tortillas.