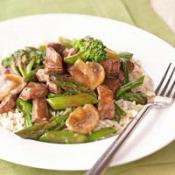 This article was last updated on April 16, 2022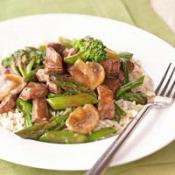 Stir Fried Beef With Carrot
Serves 4
Ingredients:
2/3 lb rum steak
1 small carrot
1 stalk celery
3 cayenne pepper
1/3 oz. scallion
1 clove garlic
Seasoning A:
½ tsp salt
½ tsp MSG
1 tbsp rice wine
1 tsp soy sauce
Seasoning B:
1 tbsp rice wine
1 tbsp soy sauce
1/3 tsp vinegar
1/3 tsp MSG
1 tsp sugar
½ tsp caramel sauce (optional)
½ tbsp sesame oil
Cooking oil
Directions:
1. Cut the beef along the grain into 2 1/2 inch long strips. Peel the carrot and remove the tough parts of celery. Cut the carrot and celery into 2 1/2 inch strips.
2. Cut the cayenne pepper into 1/2 inch pieces and remove the seeds. Shred the scallion into 2 inch strops. Slice the garlic.
3. Place the beef in a bowl and marinate with seasoning A.
4. Pour 3 cups of oil into a wok and heat to 320°F. Drop in the beef and fry, stirring occasionally to separate the strips. When the beef is 70% cooked, add the carrot and fry, stirring occasionally. When the beef begins to color, the carrots cooked, add the celery. Deep fry till the beef becomes crisp. Drain the oil.
5. Pour 2 tbsp of fresh oil and stir fry the cayenne pepper, scallion and garlic over high heat. When the aroma is released, add seasoning B. Add the entire ingredients and stir fry quickly.
6. As to watery vegetables, a good idea is to deep fry before seasoning them to remove excess water. The best temperature to fry the vegetable for this purpose is between 290° to 357°F. Take care to maintain this temperature range for, if it is too low, the water won't evaporate and if too high, the vegetable would burn.
You can publish this article on your website as long as you provide a link back to this page.