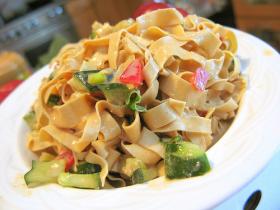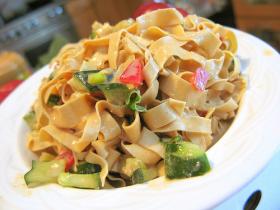 Cold Noodles With Peanut Sauce
Ingredients:
10 oz cold or oiled noodles
1 tbsp cooked oil
2 oz ham
2 oz cooked chicken meat
2 cooked mushrooms
2 oz red cabbage
2 oz cabbage
2 oz cucumber
1 oz carrots
2 tbsp oil
¼ tsp salt
2 tbsp sesame seeds
Seasoning:
1 1/3 tbsp sugar
2 tbsp light soy
2 to 3 tbsp stock
2 tbsp peanut butter
1 tsp sesame oil
½ tsp chili oil
A pinch of pepper
Directions:
Wash the noodles with warm water and drain. Coat the noodles with the cooked oil then leaves on a platter for later use.
Shred the ham, chicken and mushrooms.
Wash and shred both kinds of cabbage, the cucumber and carrots.
Heat the wok or pan with the oil to sauté all the shredded ingredients. Sprinkle the salt to stir thoroughly. Turn off the heat and mix in the cold noodles. Chill in the refrigerator for 1 hour.
Mix all the seasoning together in a bowl. Season to taste and pour over the noodles.
Wash, parch then scatter the sesame seeds on the noodles and serve.