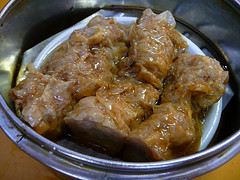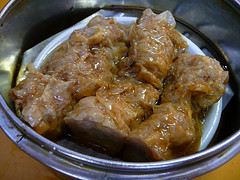 Seafood in Beancurd Skin
Ingredients:
200g peeled prawns
100g crabmeat, fresh or canned
2 water chestnuts, roughly chopped
1 tbsp chopped coriander leaves
1 tsp salt
3 to 4 large sheets of dried beancurd skin
1 tsp cornflour mixed with water
Oil for deep frying
Directions:
Blend the prawns and crabmeat in a food processor until coarsely chopped. Add water chestnuts, coriander and salt and process for a few more seconds.
Wipe the beancurd skin with a damp cloth to make it pliable, then cut into 12cm squares.
Put in a heaped spoonful of filling and spread across.
Smear the far end of the beancurd skin with cornflour paste, then fold over the sides of the skin and roll up to seal the filling in firmly.
Deep fry in hot oil until crisp and golden.
Cut rolls into bite-sized pieces before serving.