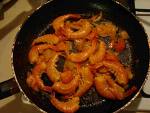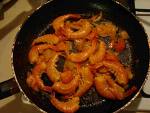 My Favourite Dish : "I just love eating rajma with rice. There's nothing more simple and exotic."
I Like To Eat At : "I can't resist a quiet, elaborate oriental meal at Juhu's Sampan restaurant in Novotel hotel."
Best Meal I've Ever Had : "A cliche', but the one cooked by my mother. And of course, having an exotic meal with my wife, Kiran, is romantic anytime."
My Favoured Cuisine : "I simply can't resist authentic Chinese food."
Non-food Passions : "I love listening to all kinds of global music. I'm also a wanderer, I love exploring new places. I enjoy spending time at my film academy."
My favourite recipe : "Stir fried prawns in hunan sauce."
Ingredients
– Tiger prawns (peeled and cleaned): 8 pieces
– Egg: 1l – Salt for marination: as per taste
– Corn flour: 1 tbsp
– Refined oil for frying
– Garlic (chopped): 1tbsp
– Green chilli (chopped): 1
– Black pepper (crushed): 1/4 tsp
– Chilli bean sauce: 1 tbsp
– Chilli paste: 1 tsp
– Onion diced: 8 dices
– Capsicum diced: 8 dices
– Spring onion (diced): 2 tbsp
– Stock/water: 50 ml
– Salt to taste
– Sugar: a pinch
– Soya sauce: 1/4 tsp
– Chinese wine: 1 tbsp
– Sesame oil: 1 tsp
– Corn flour: 1 tbsp
Method
– Pat dry and marinate the peeled, slit and cleaned prawns (keeping the tail intact) with egg, salt, corn flour and oil for about 10 minutes.
– Stir fry the marinated prawns, keep in mind not to overfry or they may get tough to eat.
– Heat oil in a wok, saute garlic, green chilli, black pepper, chilli bean sauce and chilli paste.
– Add capsicum, onion, spring onion, stir fried prawns, stock/water, salt, sugar, soya sauce and Chinese wine.
– Finish the dish by thickening with corn flour and a dash of sesame oil for delicate flavour.
Serve hot with steamed rice.