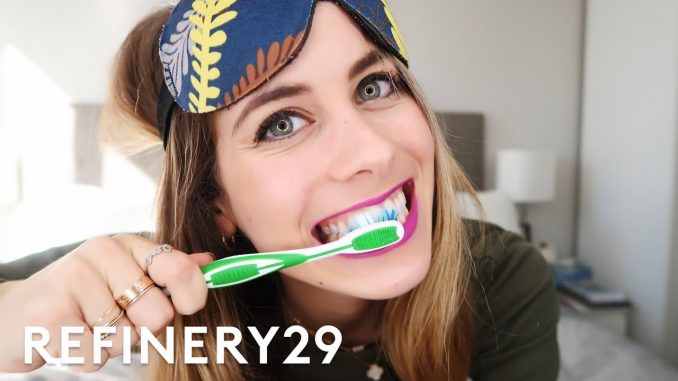 It's a scenario we all know far too well: It's 3 p.m. — way too early for dinner — and your stomach is rumbling. You check your snack stash only to find the same potato chips, gummy candy, or granola bar. It's easy to get stuck in a repetitive snacking cycle, but it doesn't have to be that way — snacking can (and should) be fun, balanced, and tasty.
In partnership with The Laughing Cow, we're challenging you to break the monotony. Enter: #AntiRoutine. Ditch the dull, including those same ol' snacks, and switch things up with the delicious alternatives ahead.
Refinery29 is teaming up with The Laughing Cow for an #AntiRoutine mission that's all about shifting your perspective to unlock new possibilities. Say goodbye to your monotonous routine and instead, make the choice to switch it up with simple lifestyle changes that will garner lasting, positive effects.

Instead of movie-theater popcorn, try a unique seasoned popcorn.
Popcorn is the king of the snack world. It's quick to make and super portable for on-the-go nibbling. While it's easy to gravitate toward a bag of buttery movie-theater-style popcorn, try changing it up with a unique blend of seasonings. Simply take unbuttered popcorn and sprinkle on some hot sauce, dust it with taco seasoning, or add a spoonful of black pepper and a squirt of lemon juice.
Illustration by Louisa Cannell.

Instead of chocolate pudding, try chia-seed pudding.
If you've never tried chia-seed pudding, you're in for a treat. This is the perfect alternative to pudding cups — aka the go-to snack we all enjoyed as kids. Simply refrigerate a jar full of 1 cup milk and 2 tablespoons chia seeds. Four hours later, you're ready to eat! Sprinkle on a handful of your favorite fruits and nuts for a fun burst of flavor. A bonus? Chia is a great source of antioxidants and vitamins.
Illustration by Louisa Cannell.

Instead of microwavable pizza bites, try homemade pesto pizza bites.
Standard microwavable pizza bites only come in two flavors: bland and bland with toppings. Rather than settling for those, treat yourself to DIY creamy pesto pizza bites. Simply spread one wedge of The Laughing Cow Creamy Mozzarella Sun-Dried Tomato & Basil flavor cheese on a butter cracker and top with a dollop of pesto. Consider picking up a few other flavors, too — The Laughing Cow cheese is the perfect companion to elevate almost any snack craving.
Illustrated by Louisa Cannell.

Instead of french fries, try eggplant fries.
There's something so satisfying about a hot plate of french fries — especially when we're craving a salty snack. But instead of going the fried potato route, try breaded eggplant fries. Slice a ripe eggplant into strips, toss 'em in a mixture of seasoned bread crumbs, and bake in the oven at 375ºF. Who knew you could find such an easy (and delicious) way to incorporate veggies into your day?
Illustration by Louisa Cannell.

Instead of a milkshake, try a nut-butter smoothie.
In lieu of that rich, chocolate milkshake from your go-to fast-food joint, make a Peach-Nana-Butter Smoothie that's sweet, creamy, and also packed full of fruit and protein. All you have to do is blend together 1 cup coconut milk, 3/4 cup frozen peaches, 1/2 frozen banana, and 1 tablespoon almond butter.
Illustration by Louisa Cannell.

Instead of gummies, try homemade fruit leather.
Forking over a couple bucks for a bag of gummy candy is about as easy as snacking gets. But despite the wide array of shapes and flavors available, it's not the most inspiring snack. Instead, whip yourself up a quick batch of adult gummies, aka homemade fruit leather. All you have to do is blend together berries and honey in a food processor and spread the mixture on a baking sheet. Then, pop it in the oven for a few hours, and it'll be good to go!
Illustration by Louisa Cannell.

Instead of ice cream, try fro-yo bites.
Few things are as pleasing as a pre-bedtime scoop of ice cream straight from the carton. Except for frozen-yogurt bites, that is. Just spoon yogurt into a plastic bag, snip off the end, and pipe yogurt dots onto a wax-paper-covered tray. Place the tray in the freezer for a few hours, and you'll have a homemade take on your favorite amusement-park treat.
Illustration by Louisa Cannell.

Instead of potato chips, try roasted chickpeas.
Hummus may be a beloved snacking standby, but it's far more convenient to munch on
roasted chickpeas
while you're typing away. The best part? These delightful bits will give you the same crunch as greasy potato chips. We suggest tossing them in a coating similar to your favorite chip flavors: Try dry ranch seasoning in lieu of sour cream and onion chips or cayenne seasoning in place of jalapeño chips.
Illustration by Louisa Cannell.

Click HERE to read more from Refinery29


Loading ...