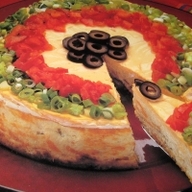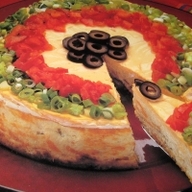 Southwest Appetizer Cheesecake
Ingredients
2 cups crushed tortilla chips
2 tablespoons butter, melted
3 (8 ounce) packages cream cheese, softened
1 1/4 cups shredded Colby cheese
8 ounces cottage cheese
4 eggs
4 ounces chopped green chile peppers
8 ounces jalapeno cheese dip
8 ounces sour cream
1 tomato, chopped
4 ounces sour cream
2 (2 ounce) cans sliced black olives
2 bunches green onions, chopped
Directions
Preheat oven to 350 degrees F (175 degrees C).
Combine crushed tortilla chips and melted butter in a small mixing bowl. Press mixture into a 9-inch springform pan to form the crust.
In a large mixing bowl, combine cream cheese, Colby-Jack cheese, cottage cheese, eggs and green chile peppers. Spread this mixture evenly into the crust.
Bake for 1 hour. When finished baking, remove cake from oven and let cool 5 minutes.
Combine the jalapeno dip and 8 ounces sour cream in a small mixing bowl. Spread this mixture over the cheesecake to cover any cracks. Return to cake the oven and bake 10 minutes.
Remove the cake from the oven and let it cool for at least 4 hours. When cooled, dollop remaining sour cream on top of the cake (in the center). Arrange the tomatoes, black olives, and green onions around the sour cream in concentric circles.