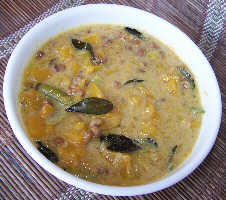 Olan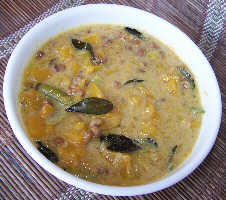 Ingredients :
½ kg ash gourd
1 cup cow peas
2 tsp jeera
12 green chillies
2 cups coconut gratings
½ tsp mustard seeds
2 sprigs curry leaves
4 tsp oil
1-2 onions
A little asafoetida
Salt to taste
Method :
Chop the ashguard into medium sized pieces.
Pressure cook ash gourd with cow peas in sufficient water, upto the sound of one whistle. Remove.
Put salt, green chillies and chopped onion. Allow it to boil for 5 minutes.
Extract 2 cups of thick juice by grinding coconut gratings.
Combine with the above and allow to boil for 5 minutes.
Take out from flame. Season with mustard, jeera and curry leaves in oil.
Put a few drops of asafoetida water and cover vessel.