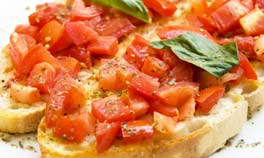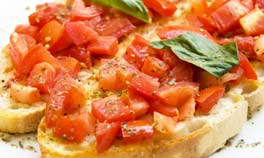 Prepare this delicious Italian delicacy and spice up your taste buds.
Serves 6-8
TOPPING
4 tomatoes -cut into 4 pieces, remove pulp & chop finely
50 gm cheddar cheese – cut into small cubes
1 tbsp balsamic vinegar, 6-8 flakes garlic – chopped very finely
2-3 tbsp fresh basil leaves – chopped
2-3 tbsp olive oil
½ tsp salt,
½ tsp dried oregano
½ tsp freshly ground peppercorns, or to taste BREAD
a small French bread – cut into slices of ½" thickness
4 tbsp olive oil,
4 flakes garlic – crushed
1. Mix all ingredients of the topping with the chopped tomatoes. Keep aside at room temperature for at least 30 minutes for tomatoes to absorb flavours.
2. For the bread, mix 4 crushed garlic flakes with 4 tbsp olive oil. Brush flavoured olive oil on both sides of bread and keep aside till serving time.
3. At serving time, bake the bread slices in a pre-heated oven at 200°C/400°F for 10 minutes till each is lightly toasted and crisp. Alternately, toast the slices on a pan or griddle on low heat till crisp on both sides.
4. Spread 1 heaped tbsp of tomatoes (at room temperature) on the toasted slice. Serve immediately.