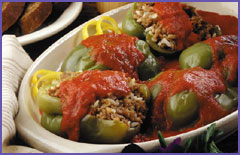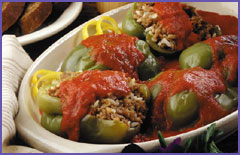 Ingredients :
½ kg capsicum
1 cup coconut gratings
10 roasted red chillies
Tamarind lump
½ tsp fenugreek seeds
2 tsp coriander seeds
4 tbsp oil
1 small piece gur
2 onions
½ tsp mustard seeds
1 sprig curry leaves
Salt to taste
Method :
If stalk of capsicum is too long, trim it.
Cut a slit around the stalk (about ¼" from it) extending to ¾ of the capsicum.
This will serve as a lid. Open it and scoop out seeds from capsicum with the handle of a spoon. Discard them.
Grind coconut gratings with roasted red chillies, and tamarind to a coarse paste.
When masala is almost ready, add fenugreek and coriander, gur and salt. Grind for a while.
Then mix chopped onion with the masala.
Stuff the capsicums one by one with the masala and close the lids.
Prepare seasoning in frying pan with mustard and curry leaves in oil.
Drop the stuffed capsicums gently in it.
Spread the excess masala, if any, all over.
Cook on a low flame under cover.
Open 2-3 times, at intervals, and turn over slightly.
After sufficient cooking, remove from flame.