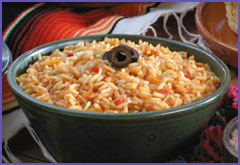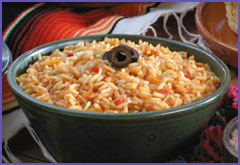 Ingredients:
1½ teacups uncooked rice
1 large sliced capsicum
1 teacup mixed boiled vegetables
2 sliced onions
2 tsp white vinegar
2½ tsp sugar
1 stick cinnamon
2 cloves
6 tbsp tomato ketchup
2 tsp chilli sauce
2 tsp oil
salt to taste
For the paste :
½" piece ginger
3 to 4 green chillies
¾ tsp chilli powder
1 tsp jeera
2 cloves
1 stick cinnamon
Method :
Put the vinegar to the paste and mix properly.
Put the capsicum and allow to marinate in the paste for ½ hour.
Heat 2 tbsp of oil in a vessel. When hot, put the sugar.
When the sugar melts, put the cinnamon and cloves and sauté for a few seconds.
Put the uncooked rice, salt and enough water to cook the rice.
When the rice is cooked, spread on a big plate.
Put 2 tbsp of tomato ketchup, ½ tsp of chilli sauce and salt to the rice.
Mix properly. Heat the remaining oil in a vessel and sauté the onions until it turns golden in colour.
Put the capsicum, boiled vegetables,
the remaining tomato ketchup and chilli sauce and salt.
Cook on a low heat for 5 minutes.
On a greased baking dish, spread the rice and the vegetable in alternate layers so that there are 3 to 4 layers of each.
Cover and bake in a hot oven at 450ºF for 20 minutes.
Unmould on a plate and serve hot.