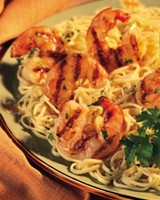 You can publish this article on your website as long as you provide a link back to this page.
This article was last updated on April 16, 2022

Ingredients:
1/2 cup butter
2 cloves garlic, minced
1 teaspoon crushed Szechwan peppercorns
1 teaspoon hot chilli oil
1/4 cup chopped fresh cilantro or 2 tablespoons chopped fresh parsley
1-1/2 pounds raw medium shrimp, peeled and deveined (about 45 to 60 shrimp)
2 tablespoons olive oil
Salt and pepper
1/2 pound angel hair or vermicelli pasta, cooked
1/3 cup grated Romano or Parmesan cheese
Method :
In small saucepan, combine butter, garlic, peppercorns, and chilli oil; simmer over low heat until butter
is melted and garlic begins to sizzle. Remove from heat; stir in cilantro.
Thread shrimp on four or five skewers. Brush with olive oil. Place shrimp in centre of cooking grate.
Grill 4 to 5 minutes until pink and just opaque, turning once halfway through grilling time. Do not overcook.
Season with salt and pepper to taste.
Remove shrimp from skewers; toss with butter mixture, hot pasta, and cheese.
Serve hot.