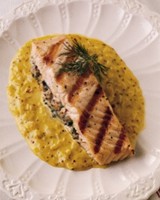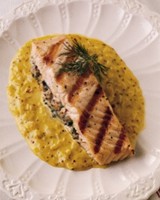 Ingredients:
1 tablespoon olive oil
6 shallots, chopped
2 cups chicken stock
2 cups dry white wine
2 pounds centre-cut salmon fillet, about 1-1/2 inches thick, skin on
12 oysters, cut into 1/2-inch pieces
3 tablespoons chopped chives
2 tablespoons lime juice (juice of one lime)
Salt and pepper
Walnut oil
4 egg yolks, beaten
1 tablespoon spicy brown mustard
1/4 teaspoon saffron
3 tablespoons heavy cream, whipped
Fresh dill (optional)
Method :
In a skillet heat oil. Add shallots and sauté until golden. Add chicken stock and white wine; simmer until liquid is reduced to one-third. Set aside.
Remove skin from salmon; discard. Cut filet into 6 equal pieces. Cut a pocket into one side of each salmon piece.
In a small bowl, combine oysters, chives, lime juice, salt and pepper to taste, and enough walnut oil to help mixture hold together; mix
well. Place equal amounts of stuffing into each salmon pocket.
Season salmon with salt and pepper; brush with walnut oil.
Place salmon in centre of cooking grate. Grill 6 to 8 minutes until salmon is opaque and stuffing is heated through, turning once halfway
through grilling time.
Meanwhile, return sauce to a simmer. Mix together egg yolks, mustard, and saffron; gently fold into sauce. Return to a simmer. Adjust
seasoning with salt and pepper. Fold in whipped cream.
Place an equal amount of sauce on individual plates.
Top each with one salmon fillet and garnish with dill, if desired.