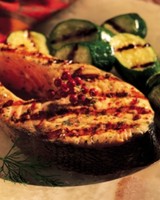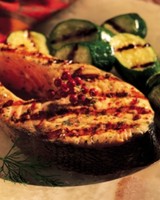 Ingredients:
For the rub:
2 tablespoons lime juice (juice of 1 lime)
1 shallot, minced
2 garlic cloves, minced
1/4 teaspoon pink peppercorns, crushed
1/2 teaspoon dried thyme
1/4 teaspoon dried dill
1/4 teaspoon salt
1/4 teaspoon dried tarragon
4 salmon steaks (about 8 ounces each), cut 1 inch thick, rinsed, and patted dry
Olive oil spray for spraying salmon
1/2 teaspoon salt
1/4 teaspoon freshly ground black pepper
Method : To make the rub:
In a small bowl, combine all rub ingredients.
Cover and store in refrigerator until ready to use.
Prepare charcoal grill for Direct smoking; prepare gas grill for Indirect smoking on High Heat (follow instructions in owner's manual). Use
one layer charcoal for traditional smoker and place food on middle grate. For best results for this recipe, use alder, pecan, or mesquite wood chips or chunks.
Spray salmon steaks with olive oil spray.
Sprinkle salmon steaks with equal amounts of rub, pressing rub into surface of both sides.
Season with salt and pepper. Let rest 10 minutes to marinate.
Place salmon steaks in centre of cooking grate of fully smoking grill or smoker.
Smoke 8 to 10 minutes, or until fish flakes easily with a fork, turning once halfway through grilling time.