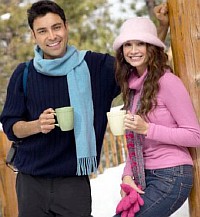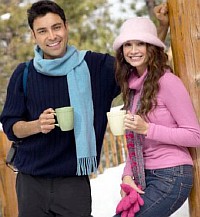 That cosy warm feeling of winter is still here for a bit. But the chilly winter according to Dr Jayashree Rana can be a depressing season for many people. "The dull weather reflects on one's mental state. And especially after the holiday season is over, people suddenly tend to feel low."
Spending outdoors on days when there's hardly any sunlight is not a viable option, so one tends to be indoors and this contributes to making one feel bored and listless. Since winters are also a time when one tends to wear darker colours, dull greys and browns and lack of light have a negative effect on one's mood."
To pull yourself out of this state of dullness and depression, here are the top 10 comfort foods for the winter.
Gaajar ka halwa
People of all age groups enjoy having hot gaajar ka halwa during the winters because it's a dish that is not usually made during the summers. Journalist Pasha Singh says, "The dish is warm and makes you feel the heat. And since it's sweet, it gives you a burst of energy and zing."
Expert tip: Nutritionist Aishwarya Rajan says that halwa made in the traditional way helps you stay warm and happy, but from the health point of view, it's not recommended. She says, "It is a good idea to use skimmed milk and oil instead of ghee to lower the calorie count."
She also recommends cooking a larger quantity of carrots for sweetness in order to decrease the amount of sugar needed.
Hot beverages like tea, coffee and hot chocolate
These are all-time favourites to drive away the blues. Enjoy a hot, steaming mug anytime, anywhere and you'll instantly feel perkier as the caffeine kick keeps you alert and awake.
 
Hot toast
A freshly toasted and thickly buttered toast is another snack that many find comfort in. Bharat Narain a student holds, the sound of the crunch that accompanies every bite! And the butter oozing out makes it even yummier! It's perfect in winters!"
Expert tip: Dr Rana advises you to watch the number of toasts you consume as your appetite goes up during winters and eating toasts means you're consuming only carbohydrates and fats. You must also be careful about the amount of butter or margarine you use. Dr Rajan suggests that having a cup of hot milk or soup along with the toast will prevent you from eating too much and will add nutrition to your snack.
Hot soup
Hot tomato or chicken soup is definitely a winter favourite for people. A bowl of healthy and wholesome soup is not only nutritionally sound, but also makes one feel full for a longer time, preventing us from eating more junk food to satisfy our cravings. And with instant soups available in the market, you needn't slave in the kitchen for hours to make the soup you love.
Expert tip: Dr Rajan agrees that this is the healthiest option to benefit you physically and mentally and suggests using vegetable or chicken stock to increase the yum-factor. But she also says that a clear soup is the way to go and creamy soups containing too much starch like corn flour or potato are not such a good idea.
Alcoholic drinks
Police officer R. N. Mathur says, "A whisky in the evening warms me up instantly. Brandy with warm water also works wonders for fighting the cold." However, for teetotallers, this is not an option!
Expert tip: Alcohol is not recommended as its consumption tends to increase in winters. Dr Rajan warns that alcohol also causes dehydration. It also leads to the consumption of salty, deep fried snacks that add to the problem as we drink less water anyways when it's cold. She advises, "Always have water before and after a drink and don't consume alcohol on an empty stomach. Preferably, have a dairy product like curd as it will line the stomach." 
Expert tip: Dr. Rajan, however, says, "An overdose of caffeine dehydrates the system, so too many cups are not a good idea. And since the sugar in tea and coffee is often not counted, we take in much more sugar than we intend to." A natural way of staying warm is to boil tulsi and ginger and sip this warm water concoction from time to time.
 
Maggi noodles
Bismah Malik, a Delhi-based PR executive feels, "A hot bowl of Maggi sets me up nicely for a chilly day ahead." Instant noodles are quick and easy to make and are available in a range of flavours giving one ample choice.
Expert tip: Dr Rana feels that instant noodles are a bad idea. She says, "It's better to have whole-grain pasta or rice noodles with vegetables." Dr Rajan agrees that these are completely avoidable. She says that even if children insist make sure you use your own masala and not the taste-makers which come along with the packet. Add lots of vegetables to add fibre and to stay satiated for a longer period,along with reducing the intake of unhealthy calories.
Deep fried snacks
In winter people often have cravings for deep fried snacks like hot pakoras , samosas and kachoris . Dr Rana warns that these food items are very high in fat content and you should have them only if you can work off the excess fat. So over-eating is a strict no-no.
Expert tip: Dr Rajan advises you to change the medium of cooking to baking, grilling or roasting. "Moderation is the keyword," is her advise.
Nuts, dry fruits, chikki
Peanuts, walnuts, almonds, cashews and pistachios are very popular bite-sized snacks. They produce a lot of heat within the body and this is why people like to have them in winters. " Chikki is the perfect combo of crunchy nuts and gooey sweetness. Nothing beats it", says textile designer Juhi Mittal.
Expert tip: Dr Rajan whole-heartedly endorses these as they are loaded with nutrients and keep you feeling satiated for longer periods of time. However, since they can also be high in cholesterol, they should not be eaten in large quantities. She advises you to, "keep a packet of assorted nuts in your car or workplace and have one or two when you feel like snacking. But yes, make sure you exercise balance here too and don't go overboard."
Chocolate
Chocolate is a snack for every season and every reason. Everyone, irrespective of age, can find a chocolate that she/he likes. Some people prefer bitter chocolates, some like white chocolates while some like the good old sugary chocolates. A definite mood-lifter for all times of the day and night, a chocolate is everybody's guilty pleasure!
Expert tip: Dr Rana reveals that bitter chocolate is okay, but you should refrain from too much sugary chocolate. Dr Rajan also suggests that sugar-free chocolate powder with cinnamon in hot milk is a great way to beat the cold.
Potato chips and wafers
These are also a popular snack as they come in multiple flavours and brands and are an energy-booster. Postgraduate student Soumya Jain says, "Chips, being a bit heavy and delightfully delicious, warm you up. Nothing can be better than curling up in bed with a huge packet of chips and a book to make you feel relaxed in the cold winter season."
Expert tip: Dr Rana says that these should always be avoided as they are very high in starch and salt. Dr Rajan adds, "Try other roasted or puffed options, preferably without salt." Even hash browns, mashed potatoes or baked potato wedges are healthier than wafers."
So just make sure you eat comfort food in moderation to drive away those winter blues instantly!