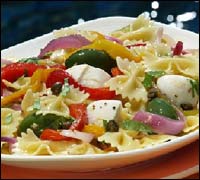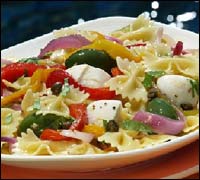 Macaroni salad
This oregano-flavoured macaroni salad is sure to please pasta lovers.
Preparation Time : 20 min
Cooking Time: 15 min
Serves: 6
Ingredients
1 teacup macaroni
1 tomato, deseeded and diced
1 capsicum, diced
3 spring onions with greens, chopped
2 tablespoons oil
For the dressing
Vinaigrette dressing with 1/2 teaspoon oregano or curry sauce
For the garnish
5 to 6 stuffed olives, cut into halves
Method
Boil the macaroni in sufficient water along with 1/2 teaspoon of salt and 1 tablespoon of oil. Drain thoroughly, wash and cool.
Add the remaining salad ingredients and mix.
Put in the refrigerator.
Just before serving, add the dressing and toss.
Serve cold, garnished with olives.
Handy Tip: With vinaigrette dressing take 1/2 teaspoon oregano or curry sauce.