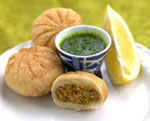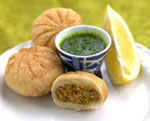 Preparation Time: About 30 minutes.
Ingredients
Maida 4 cups
Hot oil 8 tbsp
Oil for frying
Salt to taste
For filling
Moong dal (half boiled) 1 cup
Gram flour 1 cup
Oil ½ cup
Garam masala 3-4 tsp
Salt to taste
Pomegranate seeds (crushed) 2 tbsp
Mango powder 1 tsp
Method
 
1. Heat ½ cup oil in a pan. Add moong dal and stir for 10 minutes. Add gram flour and cook some more. Add garam masala, mango powder and pomegranate seeds.
2. Add oil and salt to the flour and knead a hard dough. Cover and keep for 10-15 minutes. Divide into equal portions. Flatten each ball, put 1 tsp mixture of filling and close. Keep all kachodis covered with a wet muslin cloth.
3. Heat oil till it is smoking. Remove from fire and cool. Put it again on low flame. Flatten kachodi a little at the top and put in oil one by one. Keep on full flame, when kachodis puff up, lower the flame and turn and fry till golden in colour. Cool oil again and repeat the process with rest of the kachodis.
4. Stir and mix thoroughly before serving. If desired, sprinkle a few drops of rose water / essence and serve with crushed ice in a glass.
This makes about 4 to 5 kachodis.