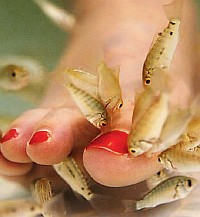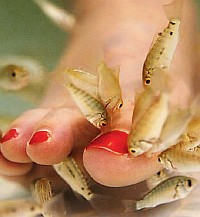 Tired of cracked heels, dead skin and dull-looking feet? Forget creams, run-of-the-mill pedicures and get ready to indulge in some fishy business.
Wondering what we're we talking about? Well, say hello to one of the most novel spa services — the fish pedicure. This nifty method simply entails the use of fish, which eat away the dead skin to reveal shiny, happy feet.
Yes, you can get silky soft feet just by being fish food. Fish pedicures have created quite a stir in the city as people are flocking to the parlours to try out this innovative service. While it has just found its footing, or should we say fishing in India, fish pedicures are said to have originated in Turkey for treating psoriasis.
The process is quite simple really. All you have to do is dip your tired feet in a tub of water filled with a tiny species of fish called Garra Ruffa or Doctor Fish. The reason they are preferred over their siblings is because they do not bite deep into the epidermal layers, but simply nibble away at the dead skin, thereby sloughing it off. The pleasure of small fish nibbling away at the dead skin is surprisingly so blissful, that beauticians warn that you will be begging for more.
"Fish pedicures are truly a unique experience. The fish help in exfoliation by eating away the dead cells, thus leaving your feet soft, smooth and shiny. It even heals cracked heels," says Deepa M, a beautician, and adds, "Fish pedicures are safe, enjoyable and an ideal replacement for harsh scrubbers that are used in normal pedicures."
While spa owners, naturally, wax eloquent about their services, this one-of-a-kind pedicure has proven to be quite a hit with the public too. Says Amrita Pandian, an IT professional and a spa enthusiast, "I was a little flustered and scared in the beginning, but once the fish got to work, I absolutely loved the tingling sensation. All I had to do was to sit back and dangle my feet in a pool of these swimming marvels. It's great fun to watch the fish at work, and trust me, they really do work hard."
So, what are you waiting for? The next time you step into a parlour, make sure to engage Doctor fish and rest assured, for you will have the world at your feet.