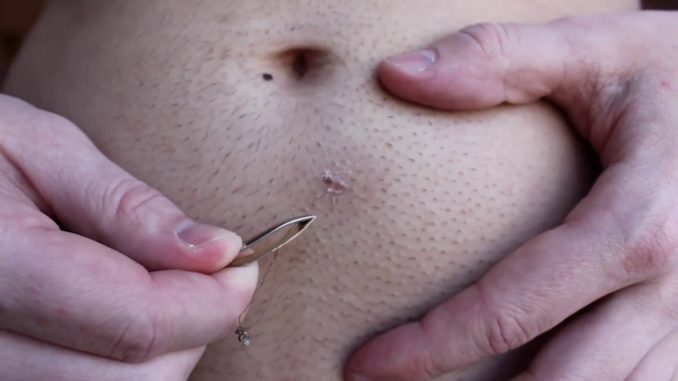 By now, everyone who shaves knows that the upkeep can be quite the hassle. This is especially true when you take into account just how easy it is to develop those stubborn ingrown hairs we all can't stand. In 2017, however, the annoyance has served a great purpose for those who enjoy watching extraction videos.
If you're unfamiliar, pimple popping clips have reigned supreme over the last year. But the 2.0 version of 'em involves ingrown hair removal videos. And while we do recommend leaving this kind of work to a professional, there's just something about watching someone slowly pull out a string of hair from a random body part that we can't look away from.
Curious yet? Ahead, seven of the best ones the internet has to offer. Gather your tweezers, folks — it's about to get hairy.
Zooming in with a microscope, the account owner at @Tweezist can be seen digging beneath the surface of their skin to nab a tiny hair that was curled into a long loop.
Best Moment: 0:24 – 0:32
This video has raked in over 38 million views since being uploaded to YouTube in September of 2012. It features a man pulling out what he believed to have been "literally a pound of hair."
Best moment: 0:37 – 0:56
Here, we have a stomach scab caused by shaving. Hidden underneath lies a gnarly gang of ingrown hair. Top comment on YouTube? "That guy better be careful or he'll unravel himself like [grandma's] crappy Christmas sweater."
Best moment: 0:38 – 0:50
One, two, three, PULL!
Best moment: 0:08 – 0:21
Feast your eyes on multiple ingrown hairs stuffed into one follicle.
Best moment: 0:23 – 0:40
Hello! Talk about customer service, okay? This barber used steam and hot towels to open up a client's pores so that extracting his ingrown hairs would be less difficult.
Best moment: 0:02 – 0:08
Press play to watch a man pull a 6-year-old ingrown hair from his back.
Best moment: 0:09 – 0:13
Click HERE to read more from Refinery29


Loading ...