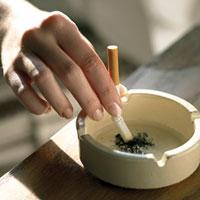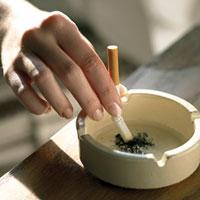 NNSW? What the heck is that? According to
Wikipedia
:
National Non-Smoking Week is a yearly event in Canada. Since 1977, it continues to be observed on the third full week of January, starting on the Sunday. Coordinated by the Canadian Council for Tobacco Control, it aims to:


·
educate Canadians about the dangers of smoking;
·
prevent non-smokers from beginning to smoke and becoming addicted to tobacco;
·
help smokers quit even if they don't want to;
·
promote the right of individuals to breathe air unpolluted by tobacco smoke, even on private property;
·
demonize the tobacco industry, tobacco industry marketing practices, tobacco products, and tobacco use; and
·
assist in the attainment of a smoke-free society in Canada.
"There are hundreds of reasons to quit… what's yours?"
The
Canadian Council for Tobacco Control
(CCTC) has put together a web site,
National Non-Smoking Week
(NNSW) specifically devoted to this annual event and this year, the theme is the above catchphrase. Sounds great; count me in. But just who the heck are these people? I must admit to having never heard of the CCTC.
Origin
The CCTC, formerly the Canadian Council on Smoking and Health (CCSH), was founded in 1974 by non-governmental organizations concerned with the tobacco epidemic such as the Canadian Cancer Society, the Heart and Stroke Foundation of Canada and the Canadian Lung Association.
Vision
Canadians are empowered to take informed action to improve their health and reduce death and disease caused by tobacco and other health risk factors.
Mission
Gathering and sharing tobacco control information, the CCTC strives to ensure that knowledge truly informs effective action to improve the health of Canadians and of the global community. The CCTC creates and maintains knowledge networks that connect people with people as well as the information they need using evidence-based information processing and knowledge brokering.
I see that this organisation is funded by Health Canada. Tobacco Control Programme, Québec, Ministère de la Santé et des Services sociaux, the Canadian Cancer Society and the Heart and Stroke Foundation of Canada.
The rest of the site has information about the use of tobacco, news about smoking and associated events plus the NNSW web site. It is NNSW which offers various online resources about how to quit smoking; a laudable goal indeed.
Statistics on Smokers
During the past 11 years 1999-2009, CTUMS has reported a decline in the overall current smoking rate among Canadians aged 15 years and older from 25% in 1999 to 18% in 2009. The population aged 15 years and older increased by about 3.1 million Canadians, the number of current smokers has decreased by 1.3 million, former smokers increased by 1.3 million and never smokers increased by 3.4 million. Overall, we saw the population increase by about 14% while ever smokers (current and former combined) did not change.
That's an interesting observation: the absolute number of smokers has not changed but the total population has gone up. Is there hope?
True Story
I grew up in a family where my mother smoked plus my brother and sister. My sister-in-law smoked and my brother-in-law smoked. I had an uncle who smoked. In other words, my father and I were the only non-smokers. As an adult, I would drop home to see my family, sometimes for the weekend. When I would head out of town to go back home, invariably I would drive with the windows wide open because by that time, my clothes would be completely permeated with smoke. Permeated? Heck, I stuck! I'd have to stripe off all my clothes and wash them right away.
I guess living on my own away from all the smoke made me realise just how bad smoke lingers in the air and on your clothes. Even now, at work, a smoker gets into the elevator and their "fragrance" just wafts around this enclosed space. They seem totally oblivious as to how they reek of smoke.
Oops, did I just disclose that I have a very strong opinion about this very strong smell? Imagine how overjoyed I was when the law was passed to ban smoking in public places. My gawd, I never thought I would live long enough! My morbid joke has always been that everybody in the family who smokes is going to live forever and the irony is that I'll contract lung cancer. Ha!
Subsidize quitting
Quebec and Saskatchewan provide assistance to those trying to quit by helping to pay for anti-tobacco medication and counselling. Groups in British Columbia are trying to get their province to pony up to aid those trying to kick the habit arguing that the Canadian health system and most medical plans do not provide financial assistance. Oddly enough, it would seem that those of us living in other provinces including my Ontario have to buy their own Nicorettes.
Weedless Wednesday
The Wednesday of Nation Non-Smoking Week is set aside to ask everyone, all smokers to refrain from lighting up for just one day. This "weedless" day is hopefully kickstart the process of quitting to smoke and to gain a little media attention. Good luck with that. Who did I just see slip out the backdoor thinking that nobody saw them?
Click HERE to read more from William Belle.