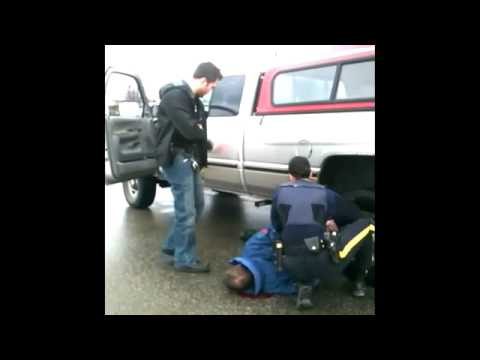 This article was last updated on April 16, 2022
Canada:

Oye! Times readers Get FREE $30 to spend on Amazon, Walmart…
USA:

Oye! Times readers Get FREE $30 to spend on Amazon, Walmart…
The facts of the story seem be this. On January 7, someone called the police with a report of an employee at the Harvest Golf Club in Kelowna who had a shotgun. A short time later, the man having left the property was stopped by the Kelowna RCMP. A Kelowna-based journalist Kelly Hayes pulled over on the other side of the street and filmed the entire incident which is now posted on YouTube.
The video shows a cop with his gun drawn at the door of the stopped truck. The driver gets out and gets down on his knees as the cop continues to yell at him to get down. The man first goes down on all fours looking as though he is going to lie face down on the pavement, but before he can do so, the cop steps forward and kicks him full in the face. The passer-by gets closer and clearly shows the suspect's face covered in blood and a pool of blood on the pavement.
YouTube: Kelowna RCMP Police Brutality Investigation
http://www.youtube.com/watch?v=jLo18EcZxsY
Buddy Tavares, 51 has been reported as saying that he has no recollection of being kicked in the face. He apparently remembers getting out of his truck then the next thing is being in the back of a police car.
RCMP Constable Geoff Mantler, the officer in the video, has been suspended with pay according to the CBC and is facing both internal and criminal investigations.
Update as of Sun Jan 16 @ 11pm
Abbotsford police have conducted an independent investigation of the incident of January 7 during which 40 eyewitnesses were interviewed by six detectives. They have now recommended a formal charge of assault causing bodily harm against Kelowna Mountie Geoffrey Mantler. This recommendation has been forward to Crown Council who will determine if criminal charges will be laid.
What happened?
Mr. Tavares has apparently been connected to the Harvest Golf Club in Kelowna for some time. Every year, he apparently goes up to the course and uses a shotgun to scare off the geese. However, the story was somehow passed onto the police that there was a domestic violence dispute involving this gentleman. One can only suppose this prompted the police to react as though the situation was more dangerous than it really was.
At the moment, Buddy Tavares has apparently been formerly charged with careless use of a firearm in connection with a domestic violence dispute but where did this accusation come from?
In the following taped interview, the testimony of Buddy Tavares makes anybody wonder what the real story is. Either Buddy is lying or someone has passed on misinformation to the police.
YouTube: interview with Buddy Tavares with journalist Kelly Hayes
Buddy Tavares, the Kelowna man kicked in the face during an arrest last week, sits down with Castanet's Kelly Hayes for an extensive interview about the incident including some unanswered questions about police allegations and how it has changed his life.
http://www.youtube.com/watch?v=1NEMnDdBRTc
Robert Dziekkanski
The mother of the man who died in the much publicised Tasar incident at Vancouver Airport in 2007 was reported to be aghast over this latest problem with the police in British Columbia. The
Daily Herald-Tribune of Grande Prairie
in an opinion piece by Michael Patt talked about Zofia Cisowski, her son's death and this recent video of the police.
"I think in B.C. the RCMP are the worst in Canada — maybe the young police officers are not trained well," said Cisowski. "How can they just kick a man in the head?"

Facebook
Rally in Kelowna – Jan 16
According to newspaper reports, a protest took place in Kelowna as a show of support for Buddy Tavares and to question the brutality on the part of the police. Gathering in Kelowna City Park, the demonstrators remained peaceful as they made their way to the Kelowna RCMP detachment. Police were standing by in case things got out of control. Apparently Mr. Tavares himself showed up but remained on the sidelines. A local online paper
Catanet.Net
reported:
Among the protesters was a former police officer, who says he had never considered participating in a rally until he saw the video of RCMP Constable Geoff Mantler kicking Buddy Tavares in the face.
"I've seen take downs, been in take downs – I've seen everything. There was absolutely no justification for this. It should be an immediate suspension without pay and termination of the job after the investigation," says the officer, who asked not to be identified.
He says RCMP members are appalled by the incident.
"I never seen anything like it, ever. Not even close."
Video report – January 10, 2011 by Kelly Hayes
This is a video report by Kelly Hayes, the journalist who filmed the original take down of Buddy Tavares by Kelowna RCMP during which Constable Geoff Mantle kicked Tavares in the face.
The gravity of the incident seems to center on this accusation of a domestic violence dispute. Buddy Tavares' wife is caught on tape saying she knows nothing about this and the two of them get along just fine. Who then reported this to police?
Buddy Tavares, the man kicked in the face by a police officer while being arrested last week is charged in connection with a "domestic violence situation" but, as Castanet's Kelly Hayes reports, he and his family are refuting the allegation.
http://www.youtube.com/watch?v=YEPMrZ6fVpU
Video report – January 10, 2011 by Kelly Hayes
The sister of Buddy Tavares speaks out about the incident. She explains that if Buddy seemed to have responded slowly to the police order to get down on the ground, it was because he is still recovering from a traumatic motorcycle accident and apparently can't move too quickly.
http://www.youtube.com/watch?v=shj2_5zJ9yw
Global News – January 7, 2011
Kelowna RCMP Police Brutality – arresting a 100% legal, law abiding firearms owner, legally doing his job of firing blank shotgun shells to scare Geese off of a golf course.
http://www.youtube.com/watch?v=hiFjz0PSckg
Click
HERE
to read more from William Belle.
You can publish this article on your website as long as you provide a link back to this page.