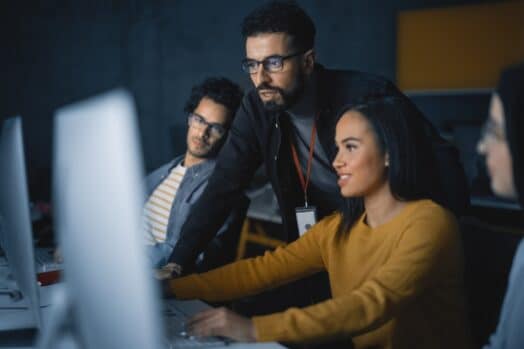 This article was last updated on June 6, 2023
Canada:

Oye! Times readers Get FREE $30 to spend on Amazon, Walmart…
USA:

Oye! Times readers Get FREE $30 to spend on Amazon, Walmart…Canada is known for having a stable and strong economy. Post-pandemic, the country has seen a strong rebound in several sectors, many of which are seeing rapid growth. One of the key factors in Canada's continued economic growth is the country's high immigration targets. Out of Canada's population of over 39 million people, almost 25% identify as immigrants. Newcomers typically arrive in Canada well-suited to fill gaps in the national labor force caused by a large number of retirements or a lack of qualified candidates.
Healthcare
Living longer than previous generations, Canadians require more medical care for an extended period. This increased demand has Canada's provinces making an effort to attract healthcare workers from abroad. Currently, over 35% of Canada's physicians, 23% of registered nurses, and 39% of dentists are immigrants.
The latest job vacancy data from Statistics Canada shows that as of February 2023, the number of job vacancies in the healthcare industry is the highest across all sectors at 143,800 vacant positions. The nursing sector was particularly hard hit during the pandemic, forcing many nurses to require extended leave or quit the profession altogether. IRCC has been taking steps to make it easier for healthcare workers to become permanent residents, such as removing some of the barriers for physicians who were previously considered self-employed.
How to Immigrate as a Healthcare Worker
Many healthcare workers migrate to Canada through an Express Entry program or streams for healthcare workers under the Provincial Nominee Program. Two federal pilot programs also exist for caregivers for seniors and children. Earlier this year, the government announced that the work experience in Canada required for a caregiver to qualify for permanent residence through these programs was reduced from 24 to 12 months.
Agriculture
Canada's agriculture sector employs over 243,000 Canadians and currently has a job vacancy rate of more than 14,000. A recent report by the Royal Bank of Canada shows that by 2033, 40% of Canadian farm operators will retire. To offset a short-term skills crisis, Canada must accept 30,000 permanent immigrants over the next decade to establish their own farms and greenhouses or take over existing ones.
How to Immigrate to Canada with an Agricultural Occupation
IRCC recently announced that it is extending the Agri-Food Pilot Program and removing occupational caps. Eligible occupations include retail butchers, industrial butchers, farm supervisors and specialized livestock workers, food processing laborers, general farm workers, and harvesting laborers. Like healthcare workers, dedicated streams under some PNPs for agriculture workers.
Tech
One of the main components of the federal budget 2023 was investing $20 billion to support the building of major clean electricity and clean growth infrastructure projects. This investment is likely to lead to increased demand in the tech sector.
The growth of the AI sector also plays a part in Canada's demand for tech workers. Invest in Canada reports that Canada has 1,032 AI and machine learning companies. Moreover, the Global AI Index shows that Canada ranks 4th for its global competitiveness in AI innovation, investment, and implementation.
How to Immigrate to Canada with a Tech Occupation
IRCC offers programs like the Global Talent Stream to bring in more tech workers. This program is part of the Temporary Foreign Workers Program and is designed to encourage the growth of Canada's tech industry. The program aims to achieve a processing standard of two weeks once the final application is submitted by the potential employee. There are also provincial tech streams like the BC Tech Stream, OINP Tech Draw, Saskatchewan Tech Talent Pathway, and the Alberta Accelerated Tech Pathway.
Conclusion
If you are planning to immigrate to Canada, consider healthcare, agriculture, and tech as industries that are actively seeking skilled workers. Each industry offers a range of opportunities to newcomers with suitable experience and qualifications. Don't hesitate to get in touch with our immigration lawyers for assistance in choosing the right immigration program to suit your skills and occupation.
Focus Keyword:
Title:
Meta Description:
You can publish this article on your website as long as you provide a link back to this page.