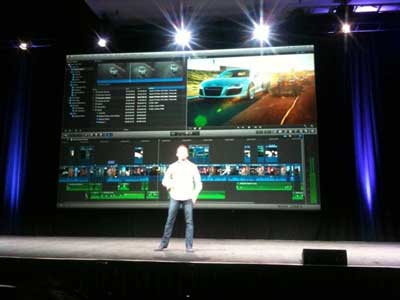 This article was last updated on April 16, 2022
Canada:

Oye! Times readers Get FREE $30 to spend on Amazon, Walmart…
USA:

Oye! Times readers Get FREE $30 to spend on Amazon, Walmart…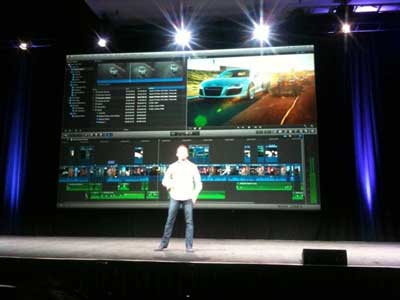 Priced at only $299 it makes Adobe Premiere Pro look greedy at $1,699
Chief Architect of Video Applications Randy Ubillos introducing Apple Final Cut ProX (Left picture Engadget)
Apple announced the release of its 64-bit native video production software Final Cut Pro X.
Rebuilt from the ground up to deliver instant rendering in video editing, it will go head-to-head with Adobe's CS5 Premiere Pro released last May.
The difference is Adobe charges $1,699 for the Production Pro suite and Apple is charging only $299.
To add insult to injury, Adobe will soon release a minor upgrade to CS5 at the astounding price of $599, double the cost of a new Apple Final Cut Pro license.
Video and the requisite video editing is the place to be in computers these days. People watch videos for news, music and virtually everything.
Apple is delivering video on the iPhone, iPad, iPod Touch plus desktop and laptop computers. Video is everywhere.
Adobe wants that video to be Flash but Apple is nixing Flash and supports H.264 video.
Prior to CS5, video editing was always bottle-necked by the rendering of video clips in editing and conversion to web compatible formats like H.264 or Flash. You could shoot a video in an hour and take days to edit the clip.
Adobe CS5 used 64 bit technology and the graphics card to make rendering almost instantaneous. However, the price of a CS5 editing suite was too high for most people – $1,700 to $2,600 per software license.
Competition is a beautiful thing and Apple's competitive product tips the scales at an ultra-lite $300.
Will it be as good as Adobe CS5?
Of course it will – Premiere Pro and Final Cut Pro have been equivalent feature for feature with Final Cut Pro being the choice of professional video editors.
Both Adobe and Apple owe their design to the same one man – Chief Architect of Video Applications Randy Ubillos.
Randy Ubillos designed the original program that became Adobe Premiere before moving to Apple. According to some, he is the genius behind all NLE video editing.
Early previews have Final Cut Pro as better and faster than Adobe Premiere Pro.
That won't really matter.
What will mean popularity and wide acceptance for Apple is the price. At $299, Apple is pricing so everyone will buy Adobe Final Cut Pro X.
Adobe is just plain greedy, especially with their $599 minor upgrade.
Mark one for Apple. You can buy an Apple video suite (hardware and software) for the price of Adobe's software.
For more history and opinion on why Adobe is shoot