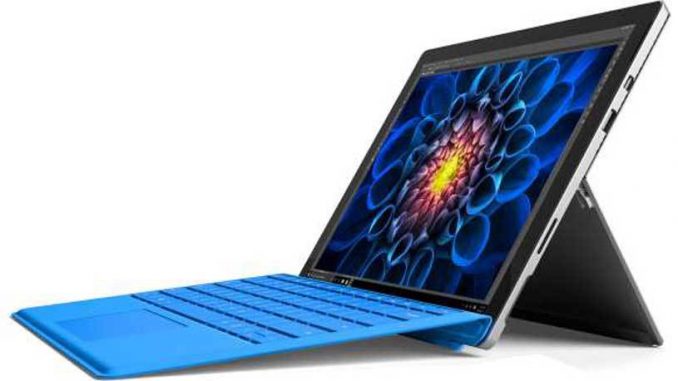 For a limited time you can save up to $300 on a new Surface Pro 4
By Stephen Pate – This is the best time to save up to $300 on a new Surface Pro 4. Microsoft is clearing the Surface Pro 4 at a huge savings as they launch the new Surface Pro

shipping June 15th. Within a short time, Microsoft will clear out the remaining Surface Pro 4 inventory and cost of a Surface Pro will be higher.
Microsoft Surface Pro 4 (128 GB, 4 GB RAM, Intel Core i5) is now $709 from Amazon.com and $849 $999 from Microsoft online. That's a $300 saving over the new Surface Pro and $140 on the Microsoft Store's Surface Pro 4.
The Surface Pro 4 has always been a premium product with a price to match. The $700 price point puts the Surface Pro 4 in direct price competition with the Apple iPad Pro which is a less powerful device.
Students, faculty or staff at Universities and colleges can save another 10%.
The Surface Pen is included. The Surface Pro keyboard is extra – from $130 to $160 for the latest version the Signature or Fingerprint Type Covers.
The Surface Pro 4 is pretty much the same as the new Surface Pro. The new model has a longer battery life and tiny performance improvement.
Apple does the same thing with new and earlier models. Apple clears inventory of the earlier model off-site.
With the Surface Pro 4 prices are in flux. Two days ago the the Surface Pro 4 was $649 on Amazon. On June 9th, Microsoft dropped their price to $849.
The Surface Pro 4 is a premium tablet with a price to match. Getting one for $700 is an awesome saving. You can pay less for used or manufacturers refurbished units from Amazon.com. Savings vary by model but they are all less expensive.
It's great to own the latest computer hardware but even greater to buy essentially the same Surface tablet at a huge discount.
How To Use Surface Pro 4 As A Sheet Music Reader
Surface Pro 4 versus Surface Pro
Microsoft claims the new Surface Pro battery will last 13.5 hours versus 9 hours for the Surface Pro 4. That may be important to you or not.
Other than that, the Surface Pro and Pro 4 are going to be about the same. The new Surface Pro may be 11% faster but but does that really matter in day to day use.
The Surface Pro 4 has become the Apple iPad substitute for people who want to work on a tablet. It has a touch screen but it integrates with a keyboard and mouse better than the iPad. It is also faster, multi-tasking, and runs all regular Windows programs. The Surface Pro is made for getting things done. The iPad is hopelessly under powered for most tasks.
Canadian Surface Pro 4 pricing
The Surface Pro 4 costs $1,049 in Canada from both Microsoft and Amazon,com, which is directly related to the Canadian dollar weakness versus the US dollar.
Click HERE to read more.