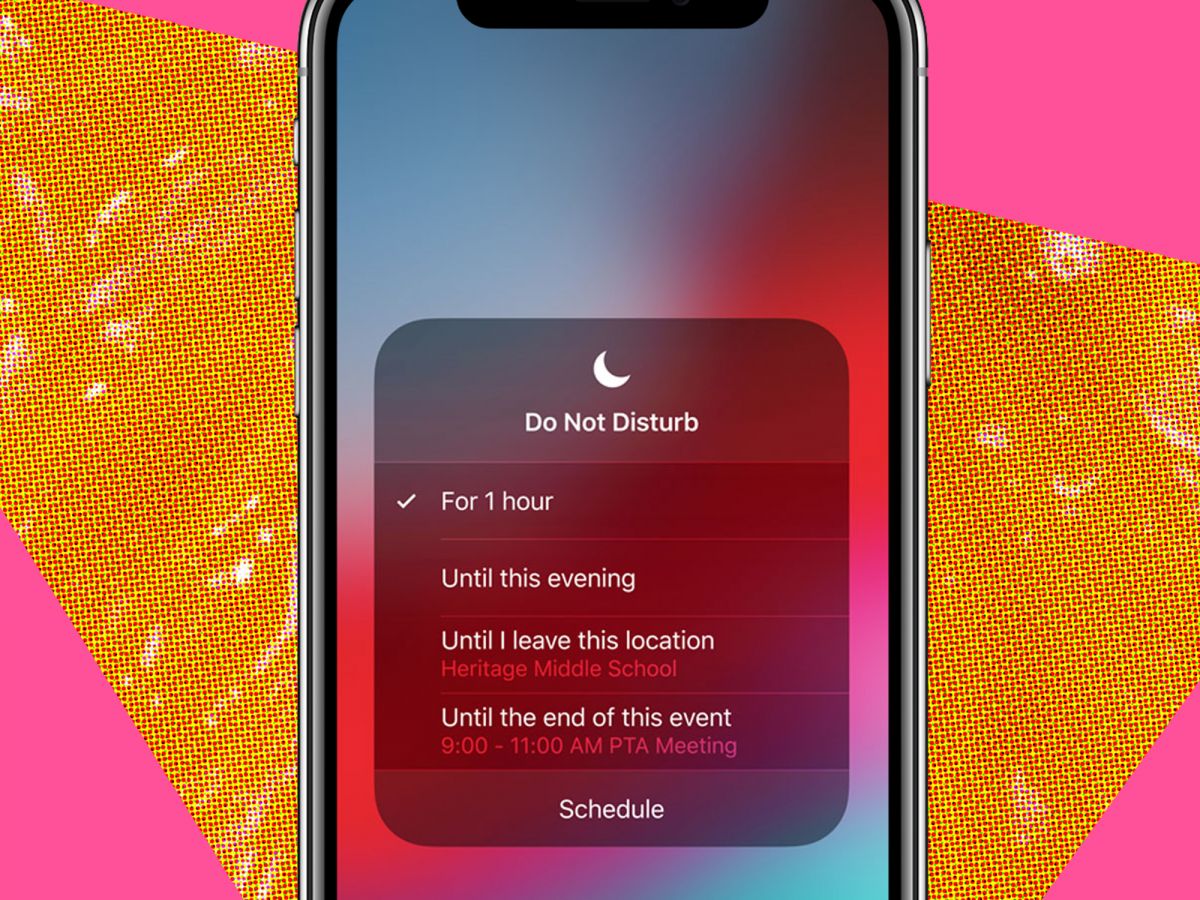 Mooning has become a crucial part of our everyday lives. We do it when we need to get work done during the day, or when we're in a job interview. We do it when we're at a show, or when we're in need of downtime at home. We moon specific people or entire groups of friends.
I'm talking, of course, about the non-nudity version of mooning: Turning on your iPhone's "Do Not Disturb" mode — and activating the little gray moon — for a disturbance-free lock screen.
When iOS 12 rolls out to the masses this fall, it will include, among many other new features, an expansion of "Do Not Disturb". You will be able to choose one of four specific DND modes: "For one hour"; "until this evening"; "until I leave this location"; and "until the end of this event" (for any meetings on your calendar). For some of these, you'll need to be proactive about activating DND, but for others, your iPhone might take the initiative and suggest you do so: For example, if you have a pass to the movies saved to your Apple Wallet, your iPhone will take that into account and send you a "Do Not Disturb" push notification while you're at the theater. Sounds pretty useful, no?
There is also fifth new mode, "Do Not Disturb during Bedtime" which will put your lock screen in dark mode and greet you with a good morning message. This is guaranteed to reduce the sweeping sense of panic that usually washes over you when you wake up to 25 unanswered notifications awaiting your attention. (Those can wait for after breakfast and a shower.)
This isn't the first time Apple has introduced greater specificity for "Do Not Disturb". iOS 11 included the well-received, though sometimes inaccurate, "Do Not Disturb While Driving " mode, which detects when you're on the road and goes into effect automatically. But the expanded offering in iOS 12 is the biggest yet since it is tied into Apple's promotion of digital wellbeing.
While the five new DND options seem practical, there are a few modes we'd find even more useful on a day-to-day basis. Sure, you can always
schedule
your own DND timeframe, but if Apple's getting specific, it might as well add these, too.
Ahead, a full list of DND requests for iOS 12.1.
Do Not Disturb…until I finish bingeing Westworld season two.
The only truly successful way to ensure spoilers are avoided.
Do Not Disturb…until I've had my morning caffeine.
Because but first, coffee is a meme for a reason.
Do Not Disturb…until everyone has decided on a restaurant for dinner.
The whole reason for mooning a group text in the first place.
Do Not Disturb…until Coachella is over.
Let the revellers have their flower crowns and ferris wheel. Let me have my no-Chella peace.
Do Not Disturb…until Nordstrom's anniversary sale has come and gone.
Priorities, people.
Do Not Disturb…until I have successfully bought tickets for Beyoncé's next tour.
No notifications can come between the beyhive and their queen.
Do Not Disturb…until New York has fixed the subway system.
You mean you don't love being crammed in a boiling car with tons of sweaty humans? Weird. (On the other hand, this will probably never happen so it'll be the equivalent of deactivating your phone. )
Do Not Disturb…until I have returned from vacation and am ready to greet the world again.
So, never?
Click HERE to read more from Refinery29


Loading ...